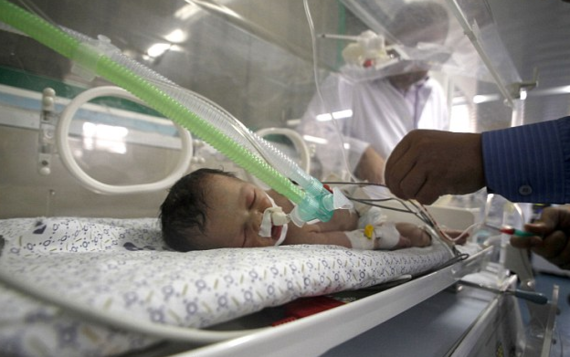 Doctors have called this baby girl the "miracle of Gaza", after she was delivered from the womb of her mother who died in an Israeli airstrike.
The premature baby girl was delivered by an emergency caesarean section with doctors saying it's a miracle that she survived.
The 23-year-old woman was killed after the airstrike hit a house in the central Gaza town of Deir al-Balah.
Dr Fadi Al-Khrote told news sources that he believed "what's happened is a miracle" as the infant's mother had died for around ten minutes before the operation could be completed.
He said it was generally the case that if the mother was dead for more than five minutes, her baby would die too.
The child's father, who is believed to be associated with the group Islamic Jihad, has gone into hiding.