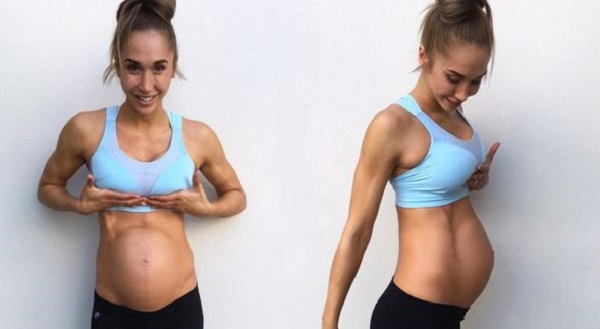 Exercise during pregnancy is always a divisive subject – while some mums worry over their workouts being too intensive, others simply can't bring themselves to do it as a result of their symptoms. One woman who is inspiring others by doing things her own way is Chontel Duncan.
Chontel, a personal trainer and fitness model from Australia, has left us in awe this week after sharing footage of herself enjoying an energetic kickboxing session – at 36 weeks pregnant.
An advocate of the 'fit pregnancy' movement, Chontel has worked out almost every day of her pregnancy and has documented her journey across her social media channels.
As well as sharing photos of her pregnancy body, Chontel has also been filling her followers in on the details of her workouts – most recently, that kickboxing class.
"How I started my day, hitting 36 weeks today. Only 28 days to go," wrote the excited mum-to-be, who recently got married.
Looking ahead to the birth of her little one, Chontel revealed: "I want to use the shower, exercise ball, stand as much as possible and play my music to help calm any nerves if needed."
Fair play to her – we're wishing her all the best with the rest of her pregnancy and the birth.
SHARE if Chontel has inspired you today.