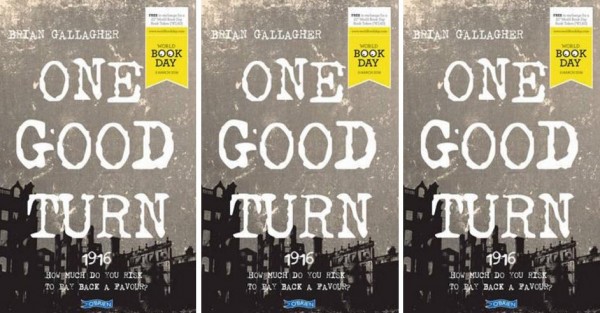 To celebrate World Book Day on Thursday, 3rd March, The O'Brien Press have announced the publication of One Good Turn from popular children's author Brian Gallagher.
Featuring characters from Brian's book Friend or Foe, it is the only Irish-published World Book Day book.
Following the story of 13-year-old Gerry Quinn, who has been living in a cold, ramshackle cottage by the Tolka and working on his uncle's slop cart ever since his parents died, it takes the reader on an adventure of love, and friendship as he gets into something way over his head.
Living such a tough life it is no surprise that he gets involved in looting when it breaks out during the 1916 Easter Rising. However, months later he finds out that someone was witness to his crime and they plan on turning him in to the police. Fearing that he will lose his job or be sent to a brutal reformatory school, Gerry asks his friends Emer and Jack for help.
But Jack and Emer have their own secrets from the Rising, and helping Gerry is fraught with danger.
Does one good turn always deserve another?
Published by The O'Brien Press, it is available now; price €1.50 or FREE with a World Book Day token.