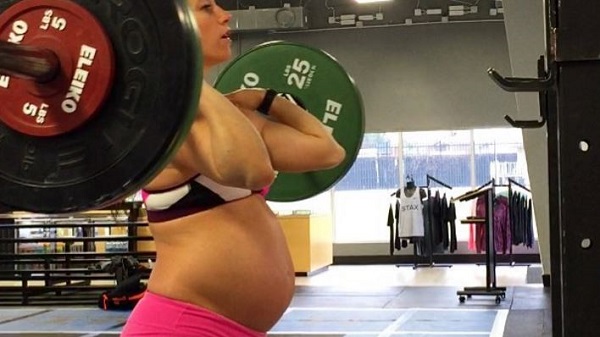 Whether they're performing acrobatics or kick-boxing, active mums-to-be around the world have been amazing us in recent times – and Emily Breeze is no different.
The fitness instructor and Crossfit enthusiast is nine months pregnant and due to give birth in a matter of mere days, and yet she is still maintaining her rigorous workout regimes and weight-lifting sessions.
The American mum-to-be has made headlines this week, after footage of her lifting just days away from her due date attracted both praise and criticism.
In an interview with Inside Edition, Emily revealed that she has been super-fit her entire life and she has a doctor's note approving her intense workouts. However, this has not stopped numerous followers of her Instagram account from expressing their concerns over the potential impact of her routines on her unborn child.
"This is not safe for the baby at all. You're at such a high risk for the cord to wrap around the baby and kill it. And if you claim your doctor 'okayed' this, you're a liar," wrote one follower.
Emily, however, has remained unmoved by the comments, saying in an interview that she would be more concerned by the damage of takeaway food than exercise on a baby.
"My body keeps telling me that everything's good, to keep going," she said.
What do you think of Emily's videos?
SHARE and let us know.