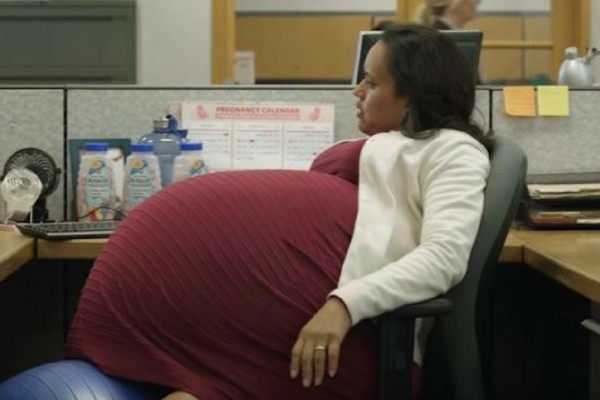 Imagine what it would be like to be pregnant for five years.
A viral video is using this concept to highlight the struggle for paid maternity leave in America.
It tells the story of Lauren, a woman who has been pregnant with the same baby for 260 weeks or five years.
Naturally, this is impossible but this is how long Lauren would have to work if she wanted to work up enough paid vacation time for maternity leave.
The video shows an enormously pregnant Lauren struggling to get into work, into a lift, out of the bathroom cubicle and up from her seat.
On her way around the office, she passes another pregnant woman with a far smaller bump who says "oh you're so cute."
Lauren's hypothetical job as a paralegal in Denver, Colorado would not pay her if she needed to take maternity leave.
And her husband has used up his paid leave caring for his elderly mother.
So, Lauren must wait five years to give birth in order to get paid for time off.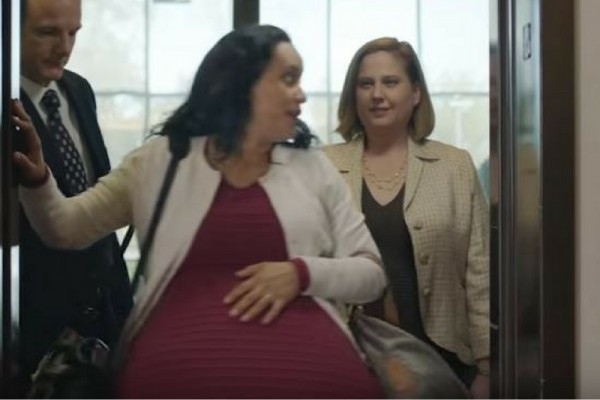 It's an absurd concept but it highlights how unfair US maternity laws are.
Some mums are entitled to 12 weeks maternity leave through their employers but they must fulfil certain requirements, such as having worked a certain number of hours and it's unpaid.
The Family and Medical Leave Act introduced in 1993 is meant to protect jobs and allow unpaid time off for maternity leave and family illnesses.
However, less than 50 per cent of workers qualify for it and many of those who do cannot afford to take the entire time allowed.
America is one of the few first-world countries without guaranteed paid leave for new parents.
A majority of small businesses support it. Families support it. So let's work hard to pass it. #paidleavehttps://t.co/kfmfKx2tCR

— Kirsten Gillibrand (@SenGillibrand) March 31, 2017
The video from the National Partnership for Women and Families is hoping to highlight the issue of unpaid maternity leave.
"It's absurd that most US workers - 86 percent - don't have paid family leave through their employers," the caption on the video reads.
"And only some are lucky enough to live in the four states that have paid family and medical leave laws. But we can change this."
The organization advise mums-to-be to take action and lobby their local politicians: "Ask your members of Congress to watch the video and then stand up for a robust national paid family and medical leave program."
Only three states currently have paid maternity leave, California, New Jersey and Rhode Island. New York will introduce a paid leave law in 2018.
Why do we think the #FAMILYAct is the best #paidleave proposal? Because it's based on successful state programs. https://t.co/O7TRdBVM4Z

— National Partnership (@NPWF) March 31, 2017
Some mums are now even using crowdfunding to raise money for their maternity leave.
It seems like a desperate measure but nowadays it's become quite common.