Apple and thyme pie with cheddar crust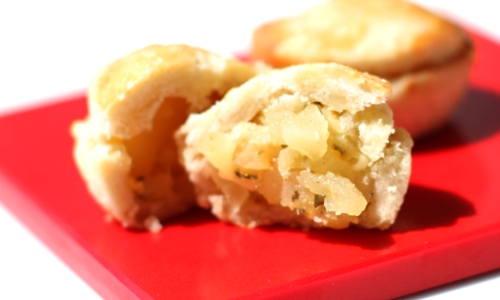 Lovely alternative to traditional apple pie
350g plain flour
Pinch of salt
1 tbsp icing sugar
60 g butter
60 g very cold lard
60g of cheese (Cathedral City Mature Yet Mellow cheese)
2 beaten eggs (1 egg for the pastry and 1 for the pie glaze)
2-3 tbsp milk
Apple filling;
750g eating apples (cox's orange, pippin, gala or pink lady)
1.25 kg cooking apples (bramley)
50g butter
100g sugar
Grated zest of 2 oranges
Grated zest of 2 lemons
2 tbsp finely chopped thyme
1 heaped tbsp semolina
Nutmeg custard (to serve if wanted)
250 ml milk
250 ml double cream
5 egg yolks
50g sugar
½ tsp freshly grated nutmeg
Preheat the oven to 200°C/400°F/Gas 6.
Sieve the flour, salt and icing sugar into a mixer bowl. Mix. Dice the butter and lard. Mix the butter, lard, grated cheddar and 1 egg (beaten) into the flour with a flat beater (k paddle). Add the milk and continue to mix until the dough comes together. Remove from bowl and knead briefly on a lightly floured surface, wrap in cling film and allow to rest for 30 mins in the fridge.
Peel, core and slice the apples. Melt the butter in a large sauce pan and cook the apples with the sugar for 5 mins aprox until they begin to soften. Remove from the heat and strain the apples. Keep the juices. Stir the orange, lemon zest and thyme into the apples.
Divide the pastry into two portions 1st = 1/3 of the dough, 2nd =2/3 of the dough. Roll out the larger portion on a lightly floured surface and use to line a deep 18-20 cm x 8 cm spring form tin. Prick the pastry with a fork and chill for 20 mins.
Line the chilled pastry in the tin with greaseproof paper and baking beans. Blind bake for 25 mins. Remove from the oven and remove the paper and beans. Put base in the oven and continue to bake for another 5-10 mins. Remove the pastry from oven.
Increase the oven temp to 220oc. Sprinkle the semolina over the pastry and pile in the apples. Roll out the remaining pastry into a circle slightly larger than the baking tin. Carefully place the pastry onto the apples, trim the edges and press the sides and the top lightly together. Glaze the top of the pie with the remaining egg. Cut a small hole in the centre to allow the steam to escape during cooking. Bake for 25-30 mins until golden brown. Allow to rest for 20 mins before serving. Serve with nutmeg custard and strained apple juices if wanted.
Nutmeg Custard method;
In a bowl beat the egg yolks with the sugar till paler in colour and thick. Bring the milk and cream to the boil with the nutmeg. Once the milk and cream have reached the boil remove from the heat and carefully pour the milk mixture into the egg and sugar mixture while continuously whisking to ensure they amalgamate. Pour the mixture back into the saucepan and continue to cook on a low heat, stirring continuously until the custard thickens and coats the back of the spoon. Serve hot or cold. If keeping till later, place in a bowl and cover the surface of the custard with cling film to prevent a skin from forming.
This recipe is courtesy of Cathedral City Cheese
Serves
Makes one pie 18-20 cm x 8cm tin
Cooking Time
30 minutes
Main ingredients
Flour, Fruit
Recipe Type
Cakes & Baking, Dessert, Pies
Level of Difficulty
Medium
Other recipes you may like
Trending and Sponsored