Apple cake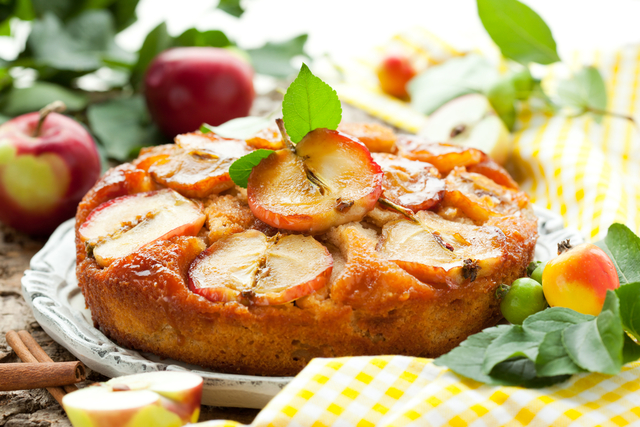 Apple cake is a traditional treat, everyone can enjoy all year round.
Butter for greasing
3 large regular apples
½ tsp cinnamon powder
1 tsp vanilla extract
Juice ½ lemon
150g butter cubed, at room temperature
150g brown sugar
3 eggs
100g plain flour
2 tsp baking powder
Glaze:
1 tbsp brown sugar
1 tbsp boiling water
Preheat the oven to 180°C / 350°F / Gas mark 4.
Line the base of a 23cm spring form tin with baking paper and grease the edges with butter.
Core and slice the apples (about 4-5mm slices). Toss them into a bowl with the cinnamon, vanilla & lemon juice. Mix well.
Add the butter to a bowl and cream using an electric mixer.
Add in the sugar, a large spoonful at a time until combined well and your mix is creamy and pale brown.
Beat in the eggs, one at a time.
(If the mix starts to curdle at this stage, add a spoonful of flour to pull the mix back together.)
After the eggs are well combined, mix through the flour and baking powder together then add into the butter and egg mixture.
Drain off the juice from the apples, keeping a few back for the top of the cake and stir through the mixture.
Transfer the mixture into your cake tin. Use a spatula to spread it out evenly.
Tip your reserved apples on top.
Bake in the oven for 50-55 minutes until a skewer pushed down into the cake comes out clean.
(Check the cake at 40 minutes and if the edges of apple are starting to burn, cover it with foil).
Mix together the sugar and boiling water.
Use a brush to dab it over the whole cake while it is still hot, straight out of the oven.
Leave to cool before undoing the pan.
Serve warm or cold, perhaps with ice cream if desired.
Main ingredients
Flour, Fruit, Eggs
Recipe Type
Cakes & Baking, Dessert
Level of Difficulty
Medium
Other recipes you may like
Trending and Sponsored