Poached pear, chocolate mousse and oatmeal crumble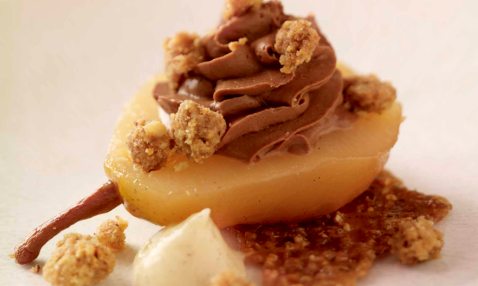 This dessert is a delicious and creative way to use oats in a recipe. This recipe was created for Flahavan's by Michelin star chef Ross Lewis
200g (8oz) butter - cubed
200g (8oz) brown sugar
200g (8oz) plain flour
100g (4oz) Flahavan's organic jumbo oats
100g (4oz) Flahavan's organic porridge oats
100g (4oz) Flahavan's pinhead oatmeal
1 vanilla pod – scrape the seeds from the centre or use a dash of vanilla essence.
4 ripe pears peeled, halved lengthways and core removed
500mls (½ litre) of water
200g (8oz) sugar
½ cup white wine – optional
1 cinnamon stick
8 whole cloves
Rind of 1 orange and 1 lemon
150g (6oz) good quality chocolate (65% cocoa solids)
2 leaves of gelatine or ½ sachet
200ml milk
250ml cream – whipped to soft peaks
For crumble mix place all oats, oatmeal, vanilla pod, and brown sugar into a mixing bowl and mix together on slow speed. Then add butter until it comes together as a crumble. Place in a container and refrigerate. Use the crumble as required (leftover crumble can be refrigerated). Spread on a non-stick baking tray and bake at 160°C/325°F/Gas Mark 3 for approx 15 mins.
For pear and poaching liquid, bring the water, sugar, white wine, cinnamon, cloves, orange and lemon to the boil.
Put the pears in and simmer for 3-4 minutes or until poached.
Remove the pears from the liquid and chill. (This liquid can be reused).
For chocolate mousse, boil the milk and having soaked the gelatine leaves in cold water, add to the boiled milk.
Melt the chocolate and then slowly add in the milk and gelatine, stirring all the time.
Allow to cool to room temperature and then add in the whipped cream. Rest for 1 hour in the fridge.
To serve place the chocolate mousse in a piping bag and pipe into the cavity of the pear and top generously with the oatmeal crumble. (If you don't have a piping bag, spoon the mixture). You may chill the leftover chocolate mousse.
This recipe is courtesy of Flahavan's.
Serves
4
Preparation Time
20 minutes
Cooking Time
60 minutes
Main ingredients
Dairy, Chocolate, Fruit
Recipe Type
Dessert
Level of Difficulty
Easy
Other recipes you may like
Trending and Sponsored