Bright and bold cupcakes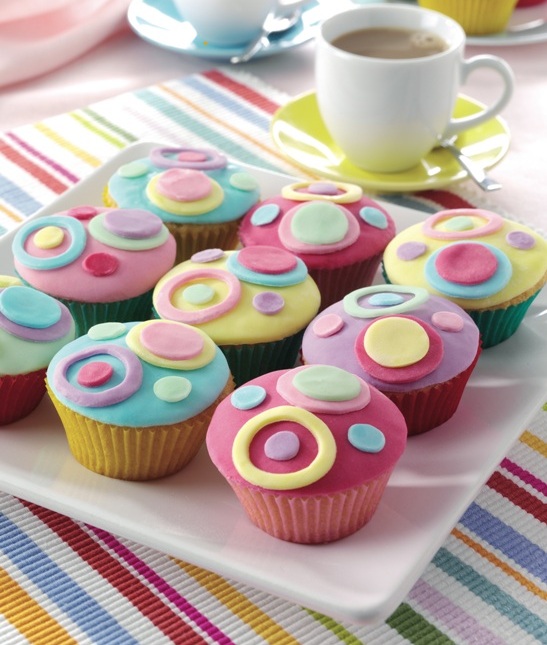 12 Dr. Oetker Fun Baking Cases
115g (4oz) baking margarine, softened
115g (4oz) caster sugar
2 medium eggs, beaten
115g (4oz) plain flour
7.5ml (1 ½ tsp) Dr. Oetker Baking Powder [Gluten Free]

To Decorate:
Icing sugar to dust
250g (9oz) Dr. Oetker Regal–Ice Ready to Roll White Icing
Dr. Oetker Bright Red, Sky Blue, Hot Pink, Ultra Violet, Lime Green and Sunshine Yellow Gel Food Colours
15ml (1 tbsp) Dr. Oetker Apricot Glaze or honey
Preheat the oven to 190°C (170°C fan assisted oven, 375°F, gas mark 5). Line a cake tin with 12 Fun Baking Cases. In a mixing bowl, beat the margarine with the sugar until pale and creamy in texture.
Gradually whisk in the eggs, then sift the flour and baking powder. Using a large metal spoon, fold the dry ingredients into the eggy mixture.
Spoon the mixture into the baking cases and bake on the middle shelf in the oven for 16-18 minutes until risen, lightly golden and just firm to the touch. Transfer on to a wire rack to cool.
To decorate, dust the work surface lightly with icing sugar. Divide the Regal-Ice Ready to Roll Icing into 6 equal sized pieces. Working on one piece at a time, flatten slightly and drop the desired amount of the first Gel Food Colour on top of the icing. Fold the icing over the Gel Food Colour to enclose it and carefully knead it into the icing until evenly mixed. Wrap each coloured portion in cling film to prevent it from drying out. Repeat the process, to colour the additional portions of icing using the different Gel Food Colours.
When ready to decorate, roll out each coloured piece of icing. Stamp out two, 6cm (2 1/4inch) discs, two, 3cm (1 1/4inch) discs, and three, 1cm (1/2inch) discs of each colour using assorted round cutters or templates. Taking one of the 3cm (1 1/4inch) discs of each colour, cut out the centre using a 2cm (3/4inch) cutter to make a ring and another circle.
Brush the top of each cupcake with Apricot Glaze or honey and stick one of the largest icing discs on top to completely cover the cake top. Decorate with various sizes and colours of icing circles, and secure on top in patterns using a light brushing of water.
This recipe is brought to you by Dr. Oetker baking range
Serves
Makes 12
Main ingredients
Flour, Sugar
Recipe Type
Party Food, Cakes & Baking, Entertaining, Kids Food, Cake Stall, Cupcakes
Special Info
Nut free
Other recipes you may like
Trending and Sponsored