Cheesy Broccoli and Chicken Bake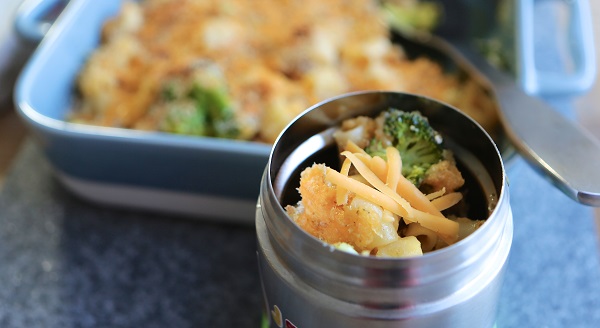 A healthy and nutritious lunchbox filler for your child's food flask, this recipe is also great for a fantastic mid-week family meal!
2 1/2 cups of dried macaroni
1 head of broccoli, separated into florets
2 chicken breasts, diced
1 1/2 cup of milk
2 1/2 cups of grated cheddar cheese
3 tbsp butter
3 tbsp flour
1 slice of wholemeal bread, made into bread crumbs
½ tbsp olive oil
Heat a large pan with the olive oil and add the chicken pieces. Fry off until golden and cooked through.
Boil a large pot of water; add the macaroni and broccoli, and simmer for 6-8 minutes
until the macaroni is cooked to your liking.
Strain off and allow to cool slightly while you prepare the cheese sauce.
In a small saucepan, melt the butter. Stir in the flour until it forms a paste.
Gradually whisk in the milk, ensuring you are not left with any lumps of flour.
Bring the mixture to the boil, remove from the heat, and stir in 2 cups of the cheese.
Stir the sauce into the macaroni and broccoli mix.
Preheat your grill.
Place the mix into a large ovenproof dish. Scatter the breadcrumbs and remaining cheese over the top.
Place under the grill for 3-4 minutes until golden and crispy.
Main ingredients
Cheese, Chicken, Pasta & Noodles, Vegetables
Recipe Type
Dinner, Family Dinners, Lunch Box
Storage:
6-9 months - Not suitable due to large chunks.

Family food – The perfect option for a mid-week meal.
For more delicious recipes and storage solutions for your family, visit
www.mummycooks.ie
Other recipes you may like
Trending and Sponsored