Chicken Fajitas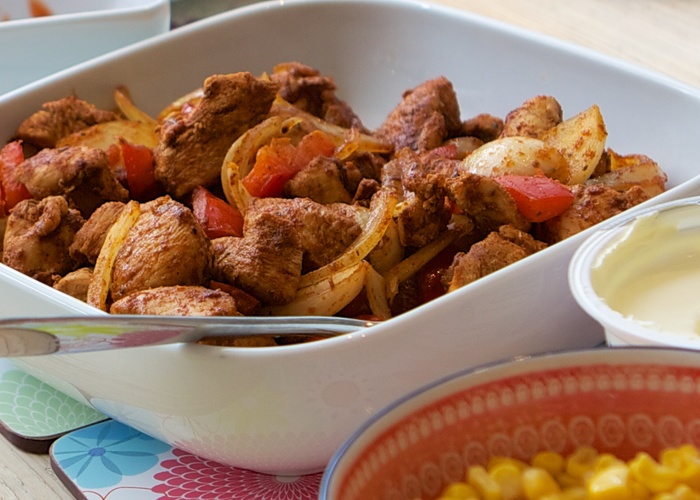 This is a firm favorite in our house and the kids love the fact they can make up their own fajita. It
also doesn't take long to prepare, so why not make this one of your weekly meal time favorites.
2 chicken breasts, sliced
1 onion, sliced
1 red pepper, sliced
For the Marinade:
1 heaped tbsp paprika
1 tbsp ground coriander
Cumin, pinch
Salt and pepper, pinch
2 medium garlic cloves, finely chopped
Olive oil
Juice of 1 lime
4-5 drops of Tabasco sauce (optional)
Accompaniments:
Tortillas
Salsa
Grated Cheese
Sweet Corn
Crème Fraiche or Natural Yogurt
Turn your oven on to 200C, and place your tortillas in a steamer or wrap in tin foil and place
in the oven.
Prepare your marinade and add your chicken, onion and pepper.
Heat your griddle pan until very hot and add contents to the pan, keeping them moving.
Allow to cook for 6-8 minutes until the chicken is cooked through. As the pan is very hot, it is
important to keep turning the pieces so they don't burn.
When everything is cooked, place the contents into a bowl - place in the centre of the table
along with heated tortillas, salsa, crème fraiche, sweet corn and cheese.
Most importantly, make sure your child makes up their own fajita with a little help from adults
. I guarantee this will become a favourite weekly meal.
Serves
3
Main ingredients
Chicken, Vegetables, Oil
Recipe Type
Dinner, Easy, Family Dinners
Storage and Texture
4mth+: Not suitable
6mth: Finger Food – Offer as a finger food, making sure to offer each piece separately so your child
can pick it up. Don't be afraid to offer spicy food; it is good to get your child used to spices from an
early age. Leave out the tabasco sauce for a child less than one year. Store in your 8oz Babypotz.
Children over 12m+ and the rest of the family: Allow your child to make up their own fajitas with a
little help.
Writer Siobhan is the owner of Mummycooks.ie, who want to inspire, educate and empower parents to feed their children healthy, home-cooked food. Her blog is a great resource for feeding your child with lots of tips and recipes.
Other recipes you may like
Trending and Sponsored