Chocolate puddini bonbons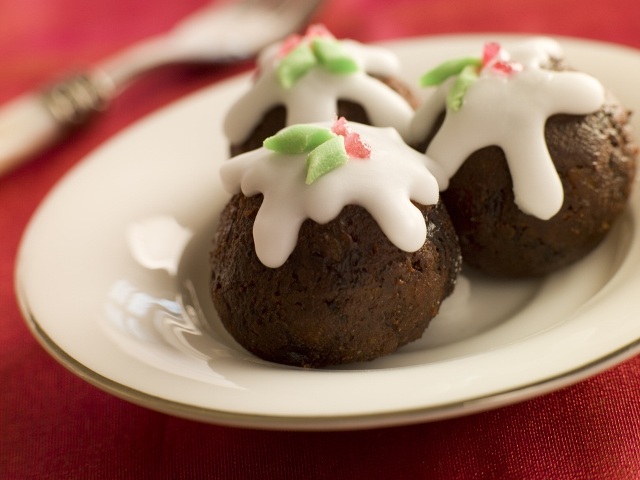 125g good quality dark chocolate (finely chopped)
350g leftover (cooled) Christmas pudding
60ml sherry
2 x 15ml tbsp golden syrup
To decorate:
100g white chocolate, finely chopped
6 green glacé cherries, or 6 short lengths angelica
6 red glacé cherries

Line a baking sheet, that fits easily into the fridge, with clingfilm and set aside.
Melt the chocolate in a heatproof bowl over above a saucepan of simmering water. Alternatively you can melt the chocolate in the microwave – for 1 minute on high, stir and then for a further 30 seconds on high.
Crumble the cold Christmas pudding into a bowl and mix in the golden syrup and sherry.
Pour in the melted chocolate into the bowl and mix well.
Put on a clean pair of kitchen gloves or disposable plastic gloves.
Take a teaspoon of mixture and roll it in the palms of your hands into nice round balls. Place on the prepared baking tray, cover with cling film and put in the fridge for one hour.
To decorate:
Melt the white chocolate in a heatproof bowl suspended over a pan of simmering water (or again in the microwave.
Allow it cool for a few minutes.
In the meantime, chop the red and green cherries into small pieces – or if using, cut the angelica into small lengths. These will be your berries and holly leaves on your mini puddings.
Take a teaspoon and pour a little of the melted white chocolate on each mini pudding.
Then decorate with the prepared pieces of cherry on top. Allow to set and eat!
Serves
Makes 30
Preparation Time
30 minutes
Main ingredients
Chocolate
Recipe Type
Gifts, Cake Stall
Special Info
Gluten free
Level of Difficulty
Fiddly
Gluten Free Tip:
These work really well as a gluten free option - you need to use gluten free Christmas pudding and chocolate but the recipe works well especially as GF pudding tends to dry out.
Gift Tip:
Make the bonbons up to 2 weeks before eating or giving.
Pack in boxes and store in a very cool place. If made 2 weeks in advance, add a label to say "keep cool and eat within 1 or 2 days".
Other recipes you may like
Trending and Sponsored