Chocolate sponge with hot chocolate custard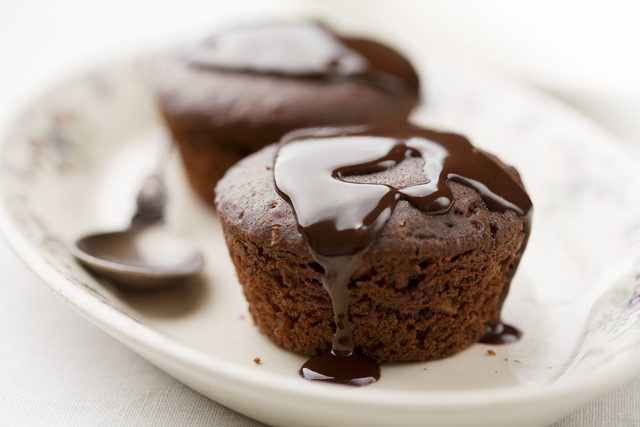 These rich, sticky chocolate cakes are actually lower in fat in this makeover recipe.
300g stoned dates, chopped
6 large eggs, separated
350g light muscovado sugar
200g wholemeal flour
2 tsp baking powder
100g cocoa
For the custard
5 tbsp custard powder
5 tbsp light muscovado sugar
50g cocoa powder
1.2ltr skimmed milk
Raspberries, to serve (optional)
Bring a kettle to boil then cover the dates with the water and set aside for 30 minutes.
Preheat the oven to 160°C / 325°F / Gas mark 3.
Grease the insides of a muffin tin with a little butter in each.
Drain the dates, reserving the liquid, then blitz the dates to a purée with 100ml of the soaking liquid.
Beat the egg whites in a large bowl until stiff peaks hold on the end of your whisk.
Add half the sugar and beat until thick.
In another bowl, beat the yolks and remaining sugar until pale.
Whisk in the date mixture, then fold into the egg white mixture until well combined.
Mix the flour, baking powder and cocoa with a pinch of salt.
Sprinkle over the wet mixture and gently fold in until well combined.
Gently scrape into the tins.
Bake for 35-40 minutes until a skewer poked in comes out clean.
Meanwhile, mix the custard powder, sugar and cocoa together in a saucepan.
Stir in dribbles of milk until there is a smooth paste.
Gradually add more milk until it's all incorporated and lump free.
Place over a medium heat and warm through stirring constantly, until thick and just bubbling.
Allow to cool, then gently remove from the tins and pour over the hot chocolate custard to serve.
Serves
Makes 8-10
Preparation Time
30 minutes
Cooking Time
40 minutes
Main ingredients
Dairy, Flour, Chocolate, Fruit, Eggs, Sugar
Recipe Type
Cakes & Baking, Dessert
Level of Difficulty
Easy
Other recipes you may like
Trending and Sponsored