Christmas Cake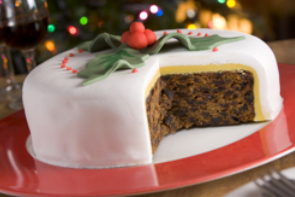 750g dried fruit (your choice or sultanas, raisins and currants)
150g mixed peel
70g cherries
70g chopped dates
70g prunes
100ml brandy
½ apple, peeled and grated
25g dark chocolate, grated
70g chopped walnuts
70g chopped almonds
½ tsp mixed spice
½ tsp ground nutmeg
Grated rind of ½ lemon
220g butter at room temperature
220g brown sugar
6 eggs
270g flour
¼ tsp baking soda mixed with 1tsp of sour milk or butter milk
Soak the fruit in the brandy over night in a large covered bowl – give it a stir every now and again.
Grease and line a 23cm square or round cake tine with a double layer of newspaper and inner double layer of greaseproof paper which should rise above the edge of the cake tin (helps to prevent edges from burning).
The next day mix the nuts, lemon rind, chocolate and spices into the soaking fruit.
Cream the sugar and butter together until light and fluffy. Mix in one egg and beat until the mixture thickens – add a little flour and mix again. Add another egg and beat, then more flour and keep alternating until all eggs and flour have been added.
Stir in the soaked fruit mixture and mix well.
Then add the baking soda dissolved in the buttermilk and mix until combined.
Spoon the mixture into the prepared tin and smooth the surface using the back of a tablespoon making a slight hollow in the centre.
Bake in the preheated oven for the first 25 minutes and then reduce the heat to 130 or gas mark ½ for the next 3 hours.
Check the cake is cooked by inserting a skewer which should come out clean if it is fully baked. If not, leave it in the oven for another 15 minutes and check again.
Remove from the oven and allow to cool in the tin for 30 minutes before turning out onto a wire rack to cool fully over night.
In the morning, wrap in greaseproof paper and store upside down to help flatten the surface – this makes it easier to ice.
The cake will keep for several months which allow the flavours to mature.
In the weeks leading up to Christmas it is important to 'feed' your cake with a little alcohol. This adds a rich flavour to your cake and helps to keep it moist. The most commonly used spirits are whiskey or brandy.
Every week until Christmas remove the lid of the cake tin and prod the cake using a skewer or an old knitting needle to create holes of different depths into the cake. These holes will allow the liquid to absorb into the cake.
Drizzle a tablespoon of the liquid over the cake.
Once your cake has been 'fed' replace the cover of the cake tin and store it in a cool, dark place
Main ingredients
Fruit, Eggs, Alcohol, Sugar
Recipe Type
Cakes & Baking
Special Info
Vegetarian
Level of Difficulty
Moderately Easy
Other recipes you may like
Trending and Sponsored