Christmas pudding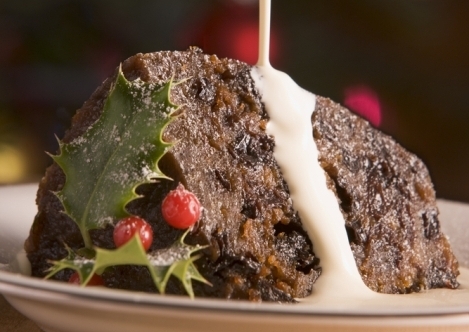 This is a lovely family Christmas pudding which is relatively light to eat. Read our gluten free notes below, to make this a tried and tested gluten free pudding.
300g raisins
300g sultanas
200g currants
100g mixed peel
100g cherries
50g chopped walnuts
50g ground almonds
150g chopped almonds
400g fresh breadcrumbs
100g self raising flour
200g brown sugar
1 tsp mixed spice
1 tsp ground cinnamon
½ tsp nutmeg
200g melted butter
5 eggs
500ml stout
4 tbsp brandy
1 cooking apple – peeled and grated
Juice and rind of 1 orange
Juice and rind of 1 lemon
Lightly grease three 2 pint pudding bowls and lids.
Soak the raisins, sultanas, currants, cherries and mixed peel overnight in the stout and brandy stirring them every now and again.
Cream the butter and sugar in a large bowl until fluffy.
Next add the eggs, flour and spices and mix well.
Add all remaining ingredients and mix again until really well combined.
Divide the mixture between the three prepared bowls.
Take a large piece of greaseproof paper and fold it in half – you will use this to cover the pudding. Place on top of the uncovered pudding the wrap some twine around it to seal it shut – if you leave the twice long enough, you can tie it into a lifting handle to take out of the pot. The finished size of greaseproof paper will be around an inch larger than the size of the top of the bowl. Next put the pudding bowl lid on top.
Steam on top of the stove: place each pudding in a saucepan and fill the saucepan with water until it reaches ½ way up the side of the bowl. Cover the saucepan with a lid and bring the water to the boil. When it reaches boiling point, turn down to simmmer point and cook for 3 ½ hours – keep the water topped up in the saucepan.
Oven cook: place the pudding bowls in a large roasting tin and fill with water until it reaches ½ way up the side of the bowl. Bake in a preheated oven 100 or gas mark 4 for 3 ½ hours. Keep water topped up in the roasting tin.
When finished cooking, allow to cool fully and store in a cool, dry place. When ready to eat, steam for another 1 ½ to 2 hours. Alternatively, this pudding does heat well in the microwave if someone pops in unexpectedly.
To flame, turn onto a serving plate – pour 20ml of brandy over the top and light immediately.
Serves
This recipe makes 3 x 2 pint (1.2 litre) puddings
Preparation Time
20 minutes
Cooking Time
210 minutes
Main ingredients
Flour, Fruit
Recipe Type
Cakes & Baking, Dessert
Special Info
Gluten free
Level of Difficulty
Easy
Gluten free pudding:
This recipes works as gluten free recipes also - we have tried and tested it with coeliacs giving it the thumbs up. You will need to replace the flour with gluten free four and add a tsp of gluten free baking powder. Ensure your breadcrumbs are made from gluten free bread (we blitzed up a loaf of gluten free bread) and we replaced the stout with milk.
More boozy pud?
If you like a more boozy pudding, simply increase the brandy by two more tablespoons (you will now be using 6 tablespoons) and reduce the stout or milk for gluten free cooking, by 30mls.
Other recipes you may like
Trending and Sponsored