Christmas pudding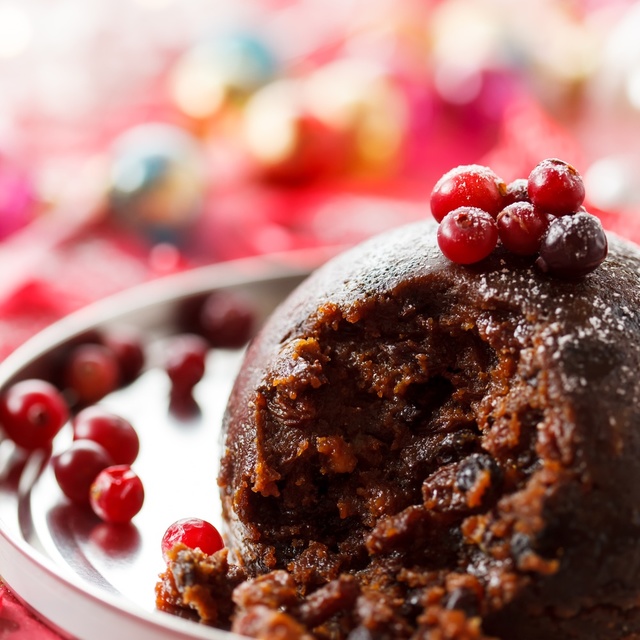 A Christmas pudding made in advance is a good idea for a brilliant finale.
350g mixed dried fruit (raisins, currants, sultanas)
100g pitted ready-to-eat prunes, chopped or left whole
100g dark muscovado sugar
4 tbsp dark rum
100ml stout
100g chopped walnuts
100g blanched almonds
100g ground almonds
100g fresh white breadcrumbs
50g plain flour
100g frozen butter, grated, plus a little extra for greasing
½ tsp freshly grated nutmeg
1 tsp ground cinnamon
2 tsp mixed spice
100g chopped glacé cherries (or left whole if you prefer)
3 large eggs, beaten
Combine the mixed fruit, prunes, muscovado sugar, rum and stout in a large mixing bowl.
Stir well to mix, cover and leave for 24 hours to soak.
Mix the walnuts, almonds, ground almonds, breadcrumbs, flour, butter, spices, cherries and eggs along with the soaked fruit mixture in a large mixing bowl.
Mix well until completely combined.
Cover with cling film and leave to stand in a cool place for 24 hours.
Grease a 1.2 litre pudding basin with butter.
Cut a circle of baking paper and place into the bottom of the pudding basin and then grease it with a little more butter.
Pack the pudding mixture into the pudding basin, pressing as you add it.
Fold a pleat into the middle of a large piece of baking paper and place over the pudding.
Cover with a large piece of pleated foil, ensuring the pleats are on top of one another.
Secure tightly with kitchen string tied under the lip of the pudding basin.
Place an upturned saucer into a large saucepan one-quarter full of water.
Fold a long piece of foil into quarters lengthways to create a long strip and place the pudding basin in the
middle of the strip.
Bring the sides of the strip up the sides of the pudding basin and lower into the saucepan.
Ensure the water
in the saucepan comes one-third of the way up the side of the pudding basin.
Leave the ends of the foil
strip hanging over the side.
Bring the water to the boil and then reduce the heat to a gentle simmer.
Simmer gently for 5-6 hours,
Add more water as necessary throughout cooking (do not allow the pan to dry out).
Once the pudding is cooked, remove from the pan and set aside to cool.
Serves
8-10
Preparation Time
60 minutes
Cooking Time
360 minutes
Main ingredients
Dairy, Flour, Fruit, Eggs, Alcohol, Sugar, Bread, Spice
Recipe Type
Cakes & Baking, Entertaining
Level of Difficulty
Fiddly
Other recipes you may like
Trending and Sponsored