Churros with hot chocolate sauce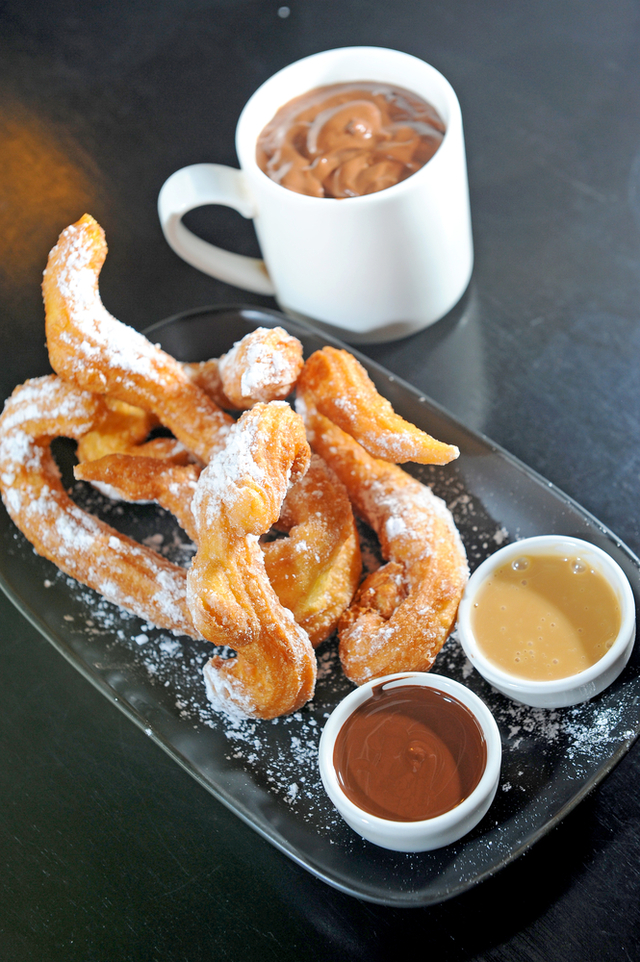 Churros are eaten in Spain for breakfast, but they also make a delightful dessert.
100g unsalted butter, diced
175g plain flour
¼ tsp baking powder
3 large eggs, beaten
Grated zest from 1/2 orange
Sunflower oil, for frying
Golden caster sugar, for sprinkling
For the dipping sauce:
150g dark chocolate
150ml double cream
1 tsp unsalted butter , softened
1 cinnamon stick
1 tbsp dulce de leche
1 tsp vanilla extract
To make the churros, add the diced butter to a saucepan, add 200ml cold water and a little salt.
Add the butter and 200ml of cool water to a pan and melt over a medium heat until the mixture is boiling.
Sieve in the baking powder and flour and as soon as the water is boiling, remove from the heat and stir in the sifted flour and baking powder.
Beat the mixture with a wooden spoon until smooth and it easily comes away from the sides of the pan.
Pour the mixture into a bowl and cool for a few minutes. Add in the beaten eggs, a little at a time, mixing between each addition until you have a stiff glossy mixture.
Add in the grated orange zest, and mix well. Cover the bowl with a clean tea towel and leave the batter to stand for 30 minutes.
Chop the dark chocolate finely and add to a bowl. Into a saucepan, add the double cream, cinnamon, dulce de leche, butter and vanilla extract.
Simmer and pour the mixture over the chocolate and stir again.
Fill a large saucepan, about one third full of oil and heat until approximately 180°C.
Fill a piping bag with the mixture and attach a star shaped nozzle.
Pipe the strips of batter into the hot oil, 2 or 3 at a time.
Cook the churros for about 1 minute on each side until golden and crispy.
Remove from the pan and blot with kitchen paper.
Dust with caster sugar and serve with the hot chocolate sauce.
Serves
6
Preparation Time
90 minutes
Main ingredients
Dairy, Flour, Chocolate
Recipe Type
Cakes & Baking, Dessert, Entertaining, Tapas
Cuisine
Spanish
Level of Difficulty
Moderately Easy
Other recipes you may like
Trending and Sponsored