Cranberry and walnut granola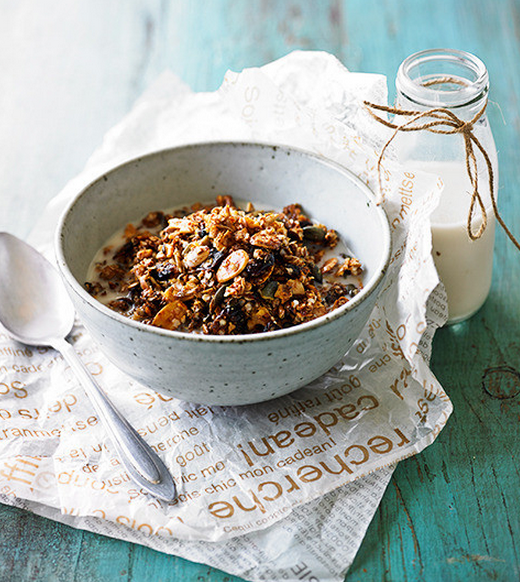 Whipping up a batch of this wholesome granola will bring out your inner earth mother (or father!), plus it moonlights as a cheeky nibble during the day. It's easy to swap out ingredients – as long as you stick to the basic mix you can make this granola your own.
300g quinoa or brown rice flakes
90g chopped walnuts
75g dried cranberries
3 tbsp sunflower seeds
2 tbsp pepitas (pumpkin seeds)
2 tbsp almond flakes
1 tbsp flaxseeds
1/2 tsp ground cinnamon
1/2 tsp freshly grated nutmeg
60ml coconut oil
60ml rice malt syrup
1/2 tsp alcohol-free vanilla extract
15g coconut flakes
Almond milk, to serve
Preheat the oven to 180°C / 350°F / Gas Mark 4 and line a baking tray with baking paper.
Combine the quinoa, walnuts, cranberries, sunflower seeds, pepitas, almond flakes, flaxseeds, cinnamon and nutmeg in a bowl and mix well to combine.
Place the coconut oil in a saucepan over medium heat and heat until it has melted.
Add the rice malt syrup and vanilla and stir for 30 seconds. Remove from the heat.
Pour the liquid mixture over the dry ingredients and stir well, ensuring the dry ingredients are coated thoroughly.
Transfer the granola to the baking tray in a single layer, then cook in the oven for 20 minutes, stirring frequently and breaking up any clumps that form.
Remove from the oven, add the coconut flakes, and bake for a further 5 minutes.
Remove from the oven and cool.
To serve, place in a bowl and top with almond milk. It also tastes great on its own.
Serves
4
Preparation Time
10 minutes
Cooking Time
30 minutes
Main ingredients
Seeds
Recipe Type
Healthy, Breakfast
Level of Difficulty
Easy
This granola keeps for 4 weeks in an airtight container in a cool dry place.
Health Benefits: A quarter of a cup of walnuts can give you nearly 95% of your daily omega-3 requirements, and the huge amount of B vitamins they contain can not only help reduce stress, but keep your skin looking young, delaying the occurrence of fine lines and wrinkles.
Other recipes you may like
Trending and Sponsored