Dr. Oetker Christmas cake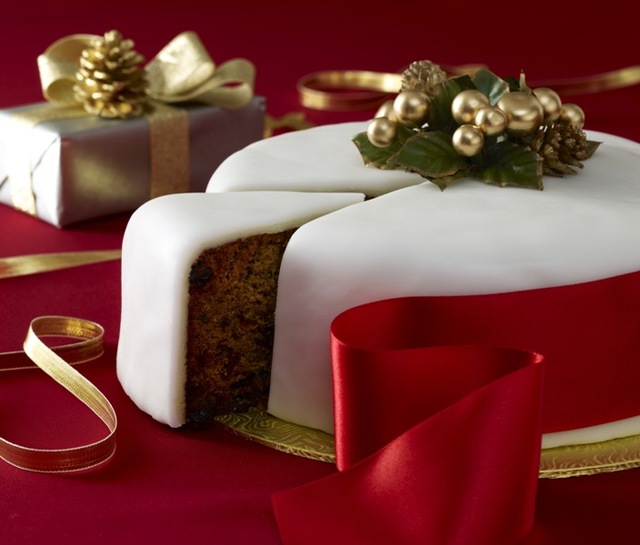 500g (1lb 2oz) luxury mixed dried fruit
50g (2oz) glacé cherries, chopped
1/2 tsp ground ginger
7 tbsp brandy
175g (6o z) butter or margarine, softened
175g (6oz) dark brown sugar
3 medium size eggs, beaten
1 tbsp treacle
225g (8oz) plain flour
1 tsp Dr. Oetker baking powder (Gluten Free)
Pinch of salt
1 tsp ground mixed spice
50g (2oz) ground almonds
1/2 tsp Dr. Oetker Natural Vanilla Extract
Grated rind and juice 1/2 orange
Grated rind and juice 1/2 lemon
To decorate:
Dr. Oetker apricot glaze
Dr. Oetker ready rolled marzipan
Dr. Oetker ready rolled icing
Dr. Oetker Christmas cake decorations set

In a bowl, mix the dried fruit, cherries, ground ginger and 4 tbsp brandy. Cover and stand overnight, stirring occasionally.
Preheat oven to 150ºC/Fan 140ºC/Gas Mark 2. Grease a deep 20cm (8 inch) round cake tin. Line the base with 3 layers of greaseproof paper, and the sides with 2 layers. This helps prevent the cake from burning.
In a mixing bowl, beat together the butter and sugar until pale and creamy. Gradually beat in the eggs, treacle and half the flour. Sieve in remaining flour, baking powder, salt and spice, and fold in with the ground almonds.
Stir in the dried fruit mixture, natural extract, citrus rind and juices. Pile into tin and smooth the top. On the outside of the tin secure 2 layers of brown paper 2.5cm (1 inch) higher than the tin itself, and tie with string. Bake in the oven for about 3 hours, until a skewer inserted in the centre of the cake comes out clean. Leave to cool in the tin.
Remove the cake and pierce with a skewer all over; spoon over remaining brandy. Wrap in greaseproof paper and foil then store in a cool, dark place for 1 month to 1 year, adding 1 tbsp brandy every 3 weeks as above.
To decorate:
Brush the top and sides of the cake with Dr. Oetker Apricot Glaze and using the inner tube to support the marzipan, lift the marzipan disc over and onto the cake.
Smooth marzipan over the centre and down the sides, pulling out any folds and trim any excess with a knife – make sure the surface is smooth ready for the icing.
Moisten the surface of the marzipan with boiled water. Roll out the Regal-Ice icing following the instructions on pack and using a rolling pin lift the icing onto the cake. Smooth the icing down over the sides, remove and save any excess.
Finish with the Dr. Oetker Christmas cake decoration set centre piece and frill.
This recipe is brought to you by Dr. Oetker
Main ingredients
Flour, Fruit, Alcohol
Recipe Type
Cakes & Baking, Entertaining
Other recipes you may like
Trending and Sponsored