Easy light christmas cake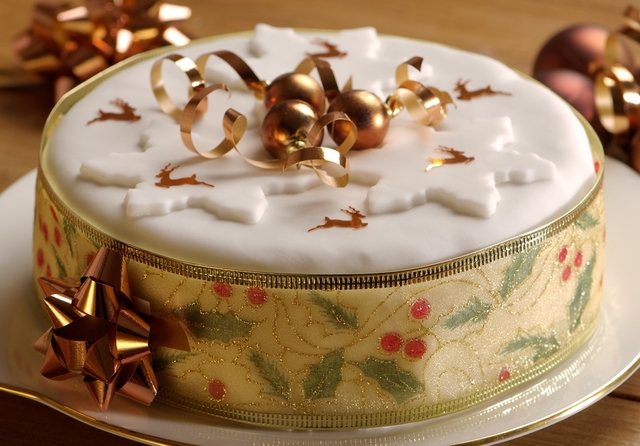 Ingredients list 1
180g butter (room temperature)
180g light muscovado sugar ½ tsp nutmeg 100g mixed peel
230g plain flour
4 large eggs
Rind of 1 lemon
Rind of 1 orange
½ tsp mixed spice
2 tbsp brandy or whiskey (optional)
Ingredients list 2
500g fruit mix (sultanas, raisins, currants)
100g cherries (chopped)
100g ground almonds
100g chopped almonds
To make the cake:
Preheat the oven to 120°C/220°F/Gas 1/2.
Grease and line a deep 19 cm round or 18 cm square cake tin with a double layer of newspaper and a double layer of greaseproof paper. Put the greaseproof paper layer on the inside of the tin so it, not the newspaper, touches the cake.
Put all of the ingredients from 'ingredients list 1' into a large mixing bowl and beat until well mixed and smooth.
Mix 'ingredients list 2' together and add to the large mixing bowl – stir until well mixed.
Spoon into the prepared tin and smooth the top using the back of a large spoon.
Bake in the preheated oven for 4-5 hours approximately. You should check at intervals after 2½ hours. Test with a skewer which will come out clean when cooked. If the cake is very brown, cover with a piece of cardboard from a cereal box for the last hour or so.
Allow to cool in the tin.
To decorate:
Using a pastry brush, brush a clear spirit (e.g. vodka) all over your cake.
Roll out marzipan and cover the cake.
To make life very easy, use shop bought fondant icing – roll out on a clean surface using icing sugar to prevent sticking. Brush the marzipan layer with clear spirit vodka and carefully lift the fondant into place using your rolling pin. Spoon it down over the edges of the cake – be gentle. Fix any cracks by smoothing them away using the back of your fingers.
Decorate with ribbon, Christmas decorations or fondant shapes cut out using cookie cutters.
Preparation Time
10 minutes
Cooking Time
240 minutes
Main ingredients
Flour, Fruit, Eggs
Recipe Type
Cakes & Baking
Level of Difficulty
Easy
Other recipes you may like
Trending and Sponsored