Family Mac's Halloween bloooooodddd bunnnnsss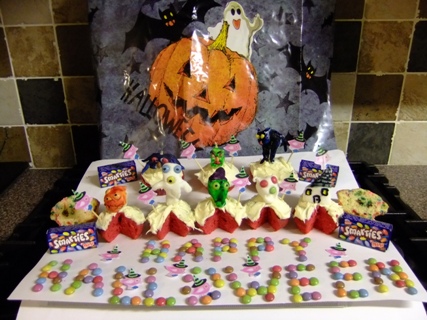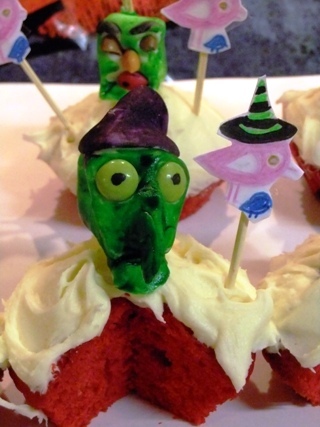 Oh what fun we have had doing this project...we have made buns, where 5 of us helped, we have made Halloween images for the top of the buns in which 3 of us helped .... we have made the Mummypages image where 2 of us helped...we took photos where 1 of us helped...we ate all the buns where 4 of us helped, AND most importantly we made a HUGE mess where 1 person helped (me, the Mummy) but we had fun, and it occupied the whole miserable rainy day.
175g butter or margarine
175g caster sugar
3 eggs
225g plain flour
1½ tsp baking powder
2 tbsp milk
2 tsp vanilla ssence
2 tbsp red food colouring
For icing and decorations:
Mini Smarties
Ready-to-roll white icing
Ready-made vanilla icing
Preheat the oven to 180⁰C.
Cream the butter and sugar until soft. Beat in the eggs one at a time, then stir in the remaining ingredients until well mixed.
Place a tablespoon of batter into each bun case and bake in the oven for 15 mins.
Let cool and then use vanilla icing as the blood. Using a knife gently in one direction only, coat the buns in the icing.
Use ready-to-roll white icing to mould it into various halloween shapes and paint them with food colouring. Place them on top of the buns and use mini Smarties as eyes and noses.
This recipe was created by Chrissy MacNeill
Cooking Time
15 minutes
Main ingredients
Chocolate
Recipe Type
Party Food, Cakes & Baking, Kids Food
Special Info
Nut free
Level of Difficulty
Easy
Other recipes you may like
Trending and Sponsored