Fruit and nutcase chocolate biscuits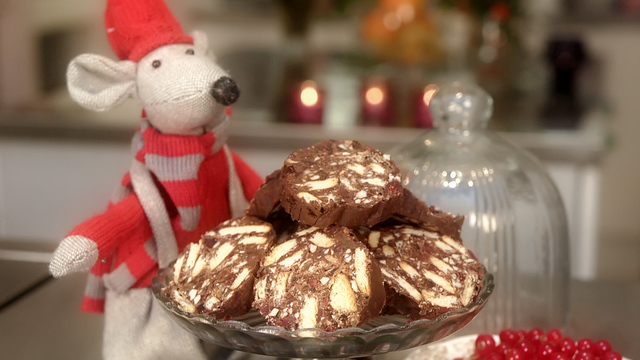 These foolproof little treats will have your friends and family thinking you've been slaving away in the kitchen for hours. In fact, they couldn't be quicker to make.
100g milk chocolate
100g dark chocolate (at least 70% cocoa solids)
75g rich tea or digestive biscuits
50g whole almonds, finely chopped
50g raisins, finely chopped
25g dried cranberries, finely chopped
Finely grated zest of 1 large orange
1 piece of stem ginger (from a jar), finely chopped, optional
Cut a 30cm length of parchment paper, ready for later.
Snap both chocolates into a medium heatproof bowl.
Either melt in the microwave in 30 second blasts, stirring between each go, or over a pan of simmering water, shallow enough that the water doesn't touch the bowl.
When melted, remove from the heat.
Break the biscuits into small chunks, adding to the melted chocolate as you go.
Add the chopped nuts, fruits, orange zest and stem ginger, if using, and stir until everything is evenly coated.
Spoon the mixture into an 18cm-long sausage shape in the centre of the parchment.
Roll the paper up to wrap the mixture, shape it into a neat sausage of even thickness, retaining this length, and twist the paper ends to secure.
Lift onto a tray and leave to cool for 30 minutes, before chilling in the fridge for 1-2 hours until set firm.
Unwrap and slice into 12 biscuits, about 1.5cm thick, using a knife dipped in hot water and then wiped.
If it is too crumbly to slice, leave it to come to room temperature and then try cutting again for a cleaner finish.
Serves
Makes 12
Preparation Time
30 minutes
Main ingredients
Chocolate, Fruit, Sugar, Nuts, Biscuits
Recipe Type
Cookies & Biscuits
Level of Difficulty
Moderately Easy
The ginger adds a nice fieriness but you can omit if you prefer. If you want to give them as a gift or are just feeling naughty, you can completely coat the finished biscuits in white chocolate.
For an added twist . . .
- Popping candy makes a fun and surprising addition. Add about 2 tablespoons to the melted chocolate with the dry ingredients.
Other recipes you may like
Trending and Sponsored