Halloween crispie sculptures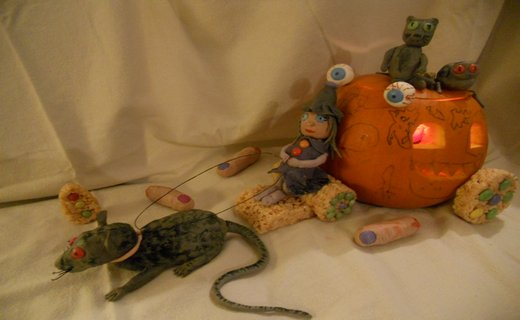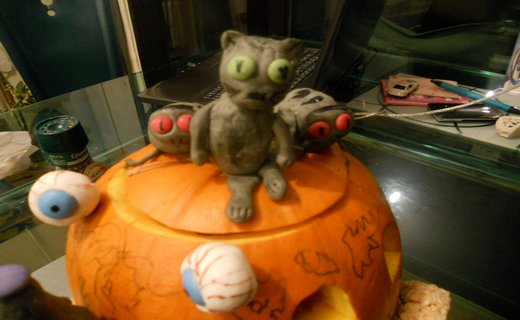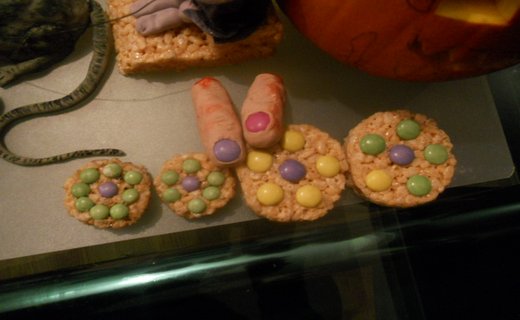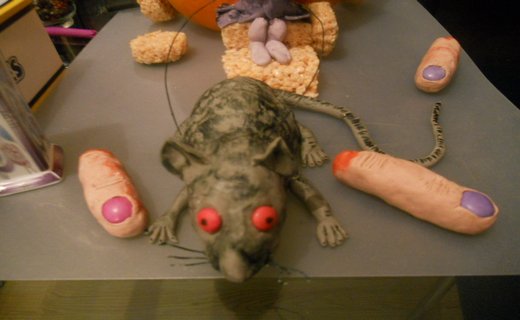 Halloween is approaching! Children and adults are looking forward to it. This is a time for frightening costumes and dresses, and fun as well. It is a great chance for kids and parents to spend time together preparing for the celebration. It's time to invent and put our ideas into practice. Time to create and dream. My children and I will share with you our fantasies and frightening creatures.
For sculptures:
40g butter (3spoons)
280g marshmallow (10oz)
6 cups (240ml x 6) Rice Krispies

For covering and small details:
180g marshmallow
200-250g icing sugar
3-5 drops of lemon juice or water
liquid food coloring
smarties and mini smarties
Put a large pan with non-stick coating on low heat, melt butter.
Add the marshmallows. Stir until they all melted.
Measure rice, add into the melted marshmellow and slowly stir.
Cover a baking dish (or any dish) with cling film and put the mixture on it. Cover with film and squeeze it well.
Now the most important part - creation! Use some oil as soap and put on your hands.
Pull a piece of mixture and shape whatever you want (heads, bodies, wheels, fingers like we've made here.)
To make marshmallow dough for decorating
Put marshmallows in a bowl, pour a few drops of lemon juice or water and put in the microwave or in a hot oven for 30 seconds. (They should increase three times in volume)
Add in the liquid food coloring. (3 drops - a gentle color, 7-10 drops - bright, saturated)
Stir well to distribute color evenly.
Pour 100g icing sugar and continue to mix.
Pour the remaining powder on the table, put the dough on it and mix untill it does not stick to hands and feels like play dough! Add more icing sugar if it is still very sticky.
Now you can make different figures or roll it and make covers. Just use a tiny drop of water to stick small details.
Use smarties or mini smarties as eyes, noses and details for your figures.
Cooking Time
30 minutes
Main ingredients
Chocolate
Recipe Type
Party Food, Cakes & Baking, Kids Food, Cake Stall
Special Info
Nut free
Level of Difficulty
Medium
If let the mixture set over the night, next morning you can cut it and use for your kids lunch boxes as crispy bars!
Other recipes you may like
Trending and Sponsored