Heart and flower cookies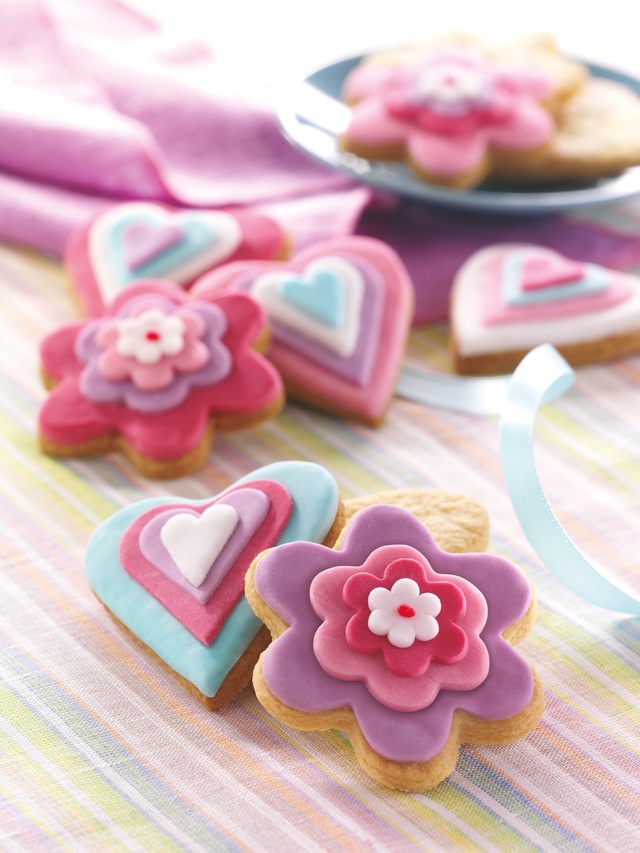 125g (4 1/2oz) unsalted butter, softened

125g (4 1/2oz) caster sugar

1 large egg yolk

250g (9oz) plain flour

7.5ml (1 1/2tp) Dr. Oetker Baking Powder (Gluten Free)

Dr. Oetker Cake Release Spray
To Decorate:

1kg Dr. Oetker Regal-Ice Ready to Roll White Icing

Dr. Oetker Gel Food Colours

Icing sugar for dusting

Dr. Oetker Apricot Glaze or honey

Dr. Oetker Red Writing Icing

Spray 3 large baking trays with Cake Release Spray to grease. Put the butter and caster sugar into a bowl and whisk until pale and creamy. Whisk in the egg yolk.
Sieve over the flour and Baking Powder and carefully mix together to make a mixture that resembles a crumble topping. Using your hands, bring the mixture together to form a firm dough. Turn on to a lightly floured surface and knead until smooth and pliable.
Roll out the dough to a thickness no greater than 1/2cm (1/4inch). Using a 6cm (2 1/2inch) wide heart shaped cutter and a 6cm flower shaped cutter stamp out approx. 40 cookies, re-rolling the dough as necessary. Arrange on the prepared baking trays, prick lightly with a fork and chill for 30 minutes. Ten minutes before baking, preheat the oven to 180˚C (160˚C fan assisted oven, 350˚F, gas mark 4).
Bake the cookies for around 10 minutes until firm and lightly golden round the edges. Leave to cool on the baking trays for 10 minutes before transferring to a wire rack to cool completely.
To decorate, divide the white Ready to Roll Icing into 5 equal portions. Keep one portion white. Dust the work surface lightly with icing sugar. Working on each of the other portions one at a time, flatten slightly and drop the desired amount of Gel Food Colours on top. Fold the icing over the gel to enclose it and carefully knead it into the icing until evenly mixed. Wrap each portion in cling film to prevent it from drying out whilst working on the next colour.
When ready to decorate, roll out each coloured piece of icing. Stamp out a range of different sized hearts and flowers from the different coloured icings and put to one side.
Brush the top of the cookies with Dr. Oetker Apricot Glaze or honey and layer with the biggest icing heart or flower to match the cookie shape. Continue to then layer the shaped icing on top to create the layered design using a light brushing of water to secure the icing. Finish the flower cookies by adding a small dot of Red Writing Icing in the centre.
This recipe is brought to you by Dr. Oetker Baking Range
Serves
Makes approx. 40 cookies
Main ingredients
Flour, Eggs, Sugar
Recipe Type
Cakes & Baking, Easy, Cookies & Biscuits
Level of Difficulty
Easy
For a gluten free version of this recipe, simply substitute the flour with a gluten free alternative.
Other recipes you may like
Trending and Sponsored