Honey popcorn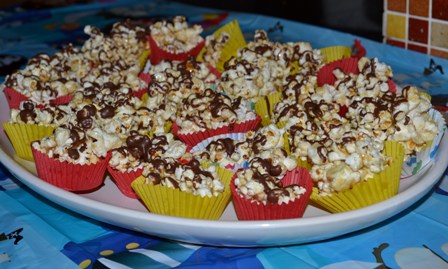 This honey popcorn is perfect snack to have while watching a movie. Its golden colour and smooth sweet taste come from the honey, butter and brown sugar coating. You can also make it into balls or cones shapes for the festive season.
100g plain popped popcorn
165g brown sugar
113g honey
2 tbsp butter
In a medium or large saucepan, pour in around 1 tablespoon of oil (sunflower or rapeseed is fine).
Spoon in around 3 tablespoons of popcorn kernels.
Put a lid on the pot and place onto the stove over a medium heat.
Shake the saucepan gently to coat the kernels with oil until you hear the popcorn starting to pop. Continue to shake the pop until the gap between the pops is around 2 seconds.
Remove from the heat and empty into a bowl.
To make the coating
Put the brown sugar, butter and honey into a large frying pan.
Place the frying pan onto a low heat and stir until the mixture is bubbling and the sugar is completely dissolved.
Turn the heat off and empty a quarter of sauce the into bowl of popcorn. Tumble the popcorn around and then add in the next quarter of the sauce, tumbling again. Repeat until all of the coating has been used.
Empty the bowl onto a swiss roll tin or tray to cool fully or you could spoon it into homemade popcorn holders or bun cases for individual party sized servings.
Preparation Time
5 minutes
Cooking Time
5 minutes
Main ingredients
Dairy
Recipe Type
Party Food, Entertaining, Kids Food
Special Info
Nut free, Egg free, Pregnant Mums
Level of Difficulty
Easy
This honey popcorn can be made into popcorn balls. Just wait until it is slightly cooled and roll tablespoon size balls. Rub a little vegetable oil on your hands so that the coating washes off easily.
Other recipes you may like
Trending and Sponsored