Infused olive oil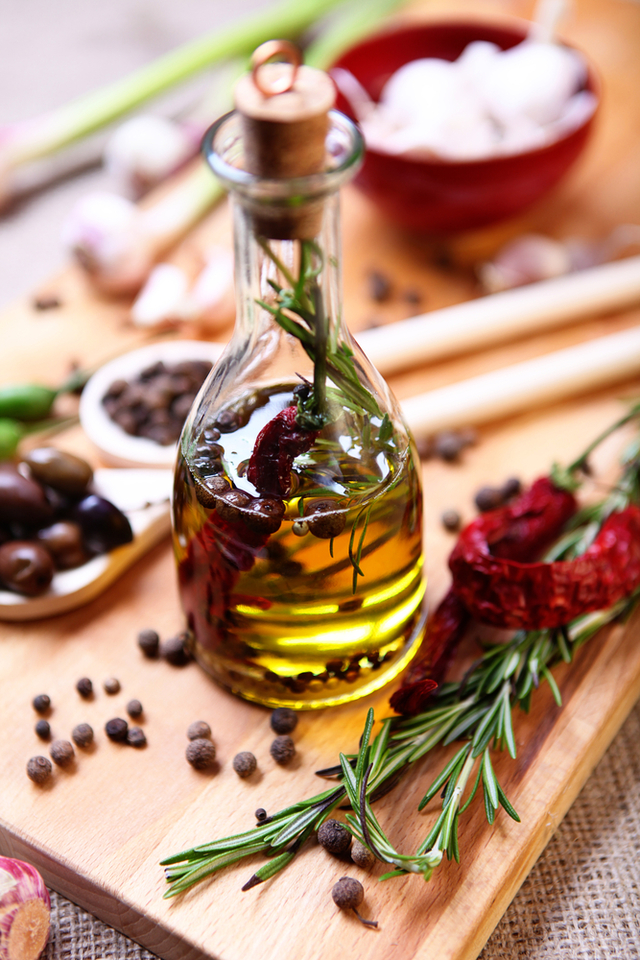 These bottles of infused olive oil make the best gift. You can use anything you wish to infuse a good olive oil, but here is a lovely recipe for an herb and peppercorn version your friends will be reminded of you every time they use it.
500 ml extra virgin olive oil
2 sprigs fresh rosemary
6 sprigs fresh thyme
4 fresh sage leaves
2 bay leaves - dry
10 coriander seeds
1 tsp pink peppercorns
1 tsp green peppercorns
1 tsp black peppercorns
1 tsp white peppercorns
2x small fresh garlic clove, green inside part removed
To make the herb bundles: Measure the height of your bottle and make the bouquet a little over ½ of the height of the inside part.
Make a little bouquet using 1 sprig of rosemary, 3 of thyme, 2 sage leaves with stem and one bay leaf with stem.
Hold together at the bottom and wrap kitchen string 3 or 4 times around the area that has more leaves, leaving the dry stems below.
Make sure the sage and bay leaf are secured.
Tightly tie a knot.
Cut the ends of the string and trim the bottom of the bouquet.
Very gently push the bouquet through the bottle neck being careful not to crush the dry bay leaf.
The bouquet should open up inside the bottle due to the fact that the string is at the bottom.
Add half of each of the peppers and half of the coriander seeds to each bottle, a garlic clove and fill with extra virgin olive oil.
Put the top on and allow to infuse for 2 weeks before using or giving as gifts.
Serves
Makes 2 bottles
Preparation Time
10 minutes
Main ingredients
Oil, Spice
Recipe Type
Easy, Gifts
Level of Difficulty
Easy
Other recipes you may like
Trending and Sponsored