Irish beef rib-eye Piri-Piri, with Cajun sweet potato wedges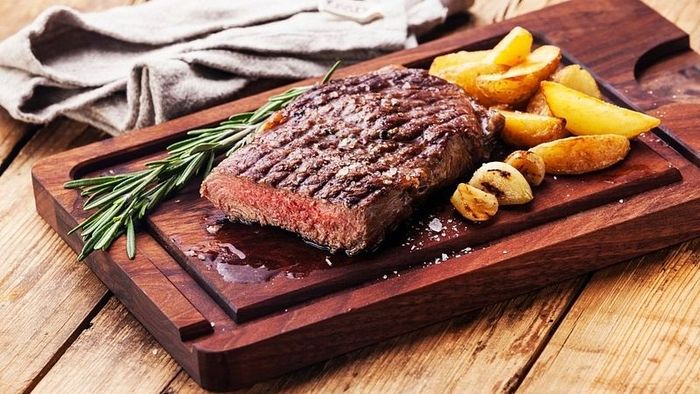 A simple, easy-to-make dish that Dad will love
4 8/10oz rib eye steaks
For the marinade:
4 tbsp extra virgin olive oil
4/6 bird-eyes medium chillies, very finely chopped
1 shallot, finely chopped
1 tbsp flat parsley, freshly chopped
1 tsp fresh thyme, freshly chopped
1 clove of garlic, crushed
½ tsp dry mustard powder
1 lemon, juiced
1 lime, juiced
1 large pinch of rock salt
For the sweet potato wedges:
2 large sweet potatoes
2 cloves of garlic
2 tbsp Black Cajun seasoning
3 tbsp of extra virgin olive oil
Large pinch of rock salt
Sweet potato wedges
Wash the sweet potatoes, keeping the skin on.
Cut the potatoes in large wedges, and place on a baking tray, s
easoned with the rock salt, Cajun seasoning, and garlic,
Add in the olive oil, and mix thoroughly to coat all the wedges with the rub.
Roast in a pre-heated oven at 180 for 15 to 20 minutes, until golden brown.
To check if it's cooked, check with a pointy knife - it should go in easily.
Marinade
In a bowl, mix all the ingredients to make a smooth semi-liquid marinade.
Place half of the marinade in a zip lock bag, with the steaks, and rub the marinade gently.
Leave to marinate 6 to 24 hours in the fridge.
(Keep the leftover marinade to serve with the steaks).
Grill the meat on a hot barbeque to your liking
Serves
4
Main ingredients
Beef, Oil, Spice, Garlic, Herbs
Recipe Type
BBQ
Serve with the sweet potato wedges, a seasonal leaves salad, and the leftover of Piri-Piri marinade.
Clement Pavie is the Head Chef at Musgrave MarketPlace
Other recipes you may like
Trending and Sponsored