Layer cake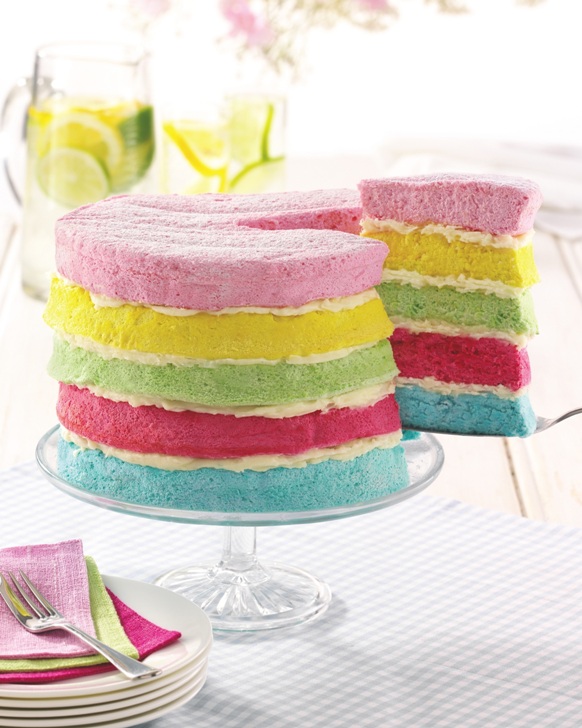 15 large egg whites
2 1/2 tsp Dr. Oetker Cream of Tartar
375g (8oz) caster sugar
250g (5oz) plain flour
7.5ml (1 ½ tsp) Dr. Oetker Natural Vanilla Extract
Dr. Oetker Bright Red, Sky Blue, Lime Green, and Sunshine Yellow Gel Food Colours
Dr. Oetker Cake Release Spray
For the Filling:
175g (6oz) unsalted butter, softened
325 (11oz) plus 1 tsp icing sugar
5ml (1 tsp) Dr. Oetker Natural Vanilla Extract
100g (3 1/2 oz) full fat cheese
Preheat the oven to 180°C (160°C fan assisted oven, 350°F, gas mark 4). Spray five, 20cm (8inch) diameter Victoria sandwich tins with Cake Release Spray to grease.
In a large, grease-free bowl, whisk the egg whites until stiff. Add the Cream of Tartar, half of the sugar and the Natural Vanilla Extract. Whisk until thick and glossy.
Sift in the flour and remaining sugar into the mixture gradually, in 4 batches, folding in gently after each addition, until well combined.
Divide the mixture equally between 5 bowls and add a few drops of a different Gel Food Colour to each bowl to achieve desired colour level. Carefully fold in the Gel Food Colour and spoon the mixture into the tins.
Smooth the tops and bake on the middle shelf in the oven for 14-15 minutes until just firm to the touch and very lightly browned. Carefully turn on to a wire rack to cool completely.
To serve, place the butter in a mixing bowl and gradually sieve and mix in all but 1 tsp icing sugar. Stir in the Natural Vanilla Extract and mix in the soft cheese. Mix well to make a smooth, creamy, spreadable filling. Spread 4 layers of sponge with sufficient filling to just cover and sandwich together. Serve dusted with remaining icing sugar.
This recipe is brought to you by Dr. Oetker baking range
Serves
8-10
Cooking Time
15 minutes
Main ingredients
Flour, Sugar
Recipe Type
Party Food, Cakes & Baking, Kids Food, Cake Stall
Special Info
Nut free
Other recipes you may like
Trending and Sponsored