Mediterranean Baked Cod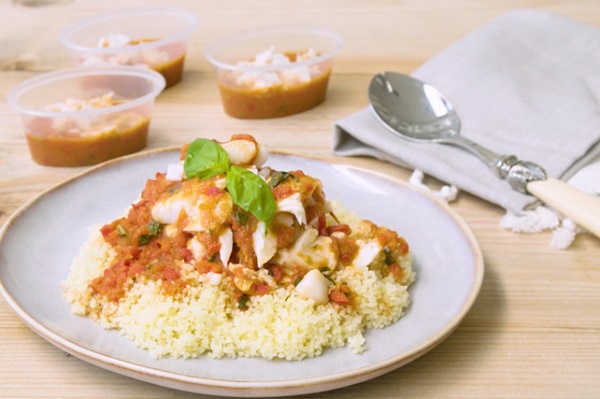 This Mediterranean Baked Cod is sure to be a hit with the whole family! It is the perfect first fish recipe for your weaning baby. The delicious tomato, pepper and basil sauce also makes for a great finger food dip, for a fun baby-led weaning meal.
Cod is the best first fish for your baby as it is packed with easily digested protein and is bursting with B-vitamins, too. Flake the cod between your index finger and thumb before serving, to ensure there are no small bones.*

*Although it contains less bones, it is still essential to thoroughly check the fish for bones.
4 tomatoes, halved
2 red peppers, chopped into chunks
2 tsp balsamic vinegar
2 tbsp olive oil
175g skinless, boneless cod fillet
2 tbsp lemon juice
1 handful of basil leaves
Preheat the oven to 180°C. Prepare a baking dish with a tablespoon of oil.
Add the tomatoes and peppers to the dish with a drizzle of balsamic vinegar. Bake for 5 minutes.
Remove from the oven, and rub the cod fillet over the tomato pepper mix. Squeeze over the lemon juice and the rest of the oil.
Sprinkle over the basil leaves, and return to the oven.
Bake for a further 15 minutes, until the fish is cooked through. Transfer the vegetables to a food processor, and blitz to make the sauce.
Serve with some pasta, with the fish flaked over the top.
Serves
4
Main ingredients
Fruit, Fish, Vegetables, Oil, Herbs
Recipe Type
Dinner, Family Dinners, Babyfood
Weaning:
Suitable for your weaning baby from 6 months. Simply blitz the sauce to the desired consistency, and serve as a finger food with a dipper such as pasta or pitta bread. Ensure to check the fish thoroughly for bones before adding to the sauce or serving to baby.
4 months: Not Suitable due to texture.
6-7 months: Blend the flaked fish with vegetables to a smooth purée with no lumps. Serve in a 2oz pot, and offer a finger food for dipping.
7-8months: Serve the sauce blended to a thicker consistency, with more texture. Flake the cod over the top of the sauce. Serve in a 3oz pot.
8-9months: Serve the thicker sauce with the fish flaked on top, in a 4oz pot.
9-12months: Serve the sauce with lumps, with the fish flaked on top, in a 6oz pot.
12months+: Serve with fish flaked on top, like the rest of the family.
Other recipes you may like
Trending and Sponsored