Mini Fish Pie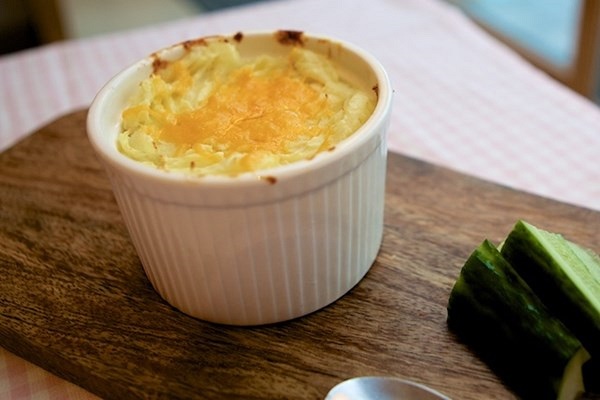 This fish pie is so tasty and satisfying. Suitable as a baby food recipe for your weaning tot, it's perfect for a mid-week family meal and is a great way to get your kids to eat more fish.

In our house we love serving this up in mini ramekins dishes so the kids can have their own portions. Make this fish pie recipe and I guarantee your little ones will enjoy them!
700g fish, e.g.: haddock, hake, monkfish, trout, skinned and boned
625ml milk
½ onion
1 bay leaf
6 pepper corns
100g butter
50g plain flour
25g frozen sweetcorn
25g frozen peas
Salt and freshly-ground black pepper
For topping:
900g potatoes
25g cheddar cheese, grated
Preheat your oven to 200°C.
Bring a large pan of salted water to the boil. Put the potatoes into the pan, making sure there is enough water to cover them. Bring to the boil, simmer until tender, then mash. Set aside.
Place the milk, onion, bay leaf, and pepper corns in a large saucepan, and bring to the boil.
Reduce to simmer, add the fish, and cook gently for 4-5 minutes. Remove the fish from the pan, allow to cool a little, then flake into bite-sized pieces and place in a bowl.
Melt the butter in a saucepan, then stir in the flour. Cook for 2-3 minutes, stirring all the time until golden brown.
Gradually stir in the milk, onion, bay leaf and pepper corn mixture into the saucepan.
Let the mixture boil, and season with salt and pepper. Reduce the heat and allow to simmer gently for 3-4 minutes until thickened.
Next, add the mixture to the fish, and season.
Add in the sweetcorn and peas, then spoon the fish mixture into mini ramekin dishes. Spread the potato mash on top, then the cheese.
Bake in the oven for 15-20 minutes.
Main ingredients
Dairy, Flour, Vegetables, Herbs
Recipe Type
Dinner, Family Dinners, Babyfood
Freezing and Storing:
If you are freezing your Mini Fish Pies in the ramekin,s do so before you bake in the oven. Allow to cool, max. 2 hours.
Place in your fridge, and then after 30 minutes, you can place in your freezer. Label and use up within 3 months
Other recipes you may like
Trending and Sponsored