MummyCooks Lamb Curry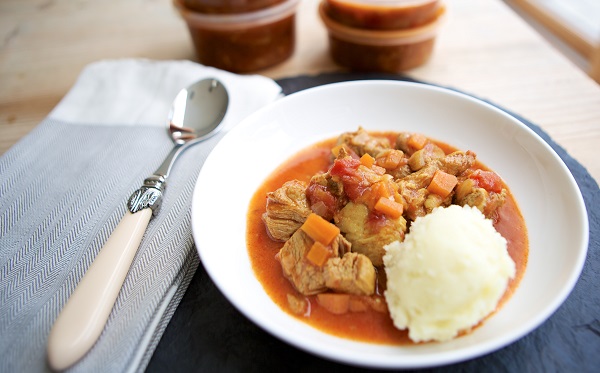 This Lamb Curry is the perfect summer dish for all of the family to enjoy!
It's also perfect for batch cooking.
1 kg of lamb pieces
1 large onion, finely chopped
3 cloves of garlic, finely chopped
1 red chili, finely chopped
1 tsp of grated ginger
1 ½ tbsp. ground cumin
1 tsp ground coriander
1 tsp ground turmeric
400g tin chopped tomatoes
500ml lamb stock
1 bay leaf
Heat a large pan with the olive oil and brown the lamb.
Remove from the pan and set aside while you sauté the onions.
Sweat down the onions for about 5-6 minutes before adding in the garlic and chili. Cook for a further 2 minutes and then add the ginger, cumin, coriander and turmeric.
Add the lamb back into the pan along with the bay leaf, stock and tomatoes.
Bring the mixture to the boil, and then reduce the heat to a simmer with the lid off for 1 ½ - 2 hours until the meat is tender and the sauce has reduced.
If you prefer a thicker sauce, you can add in some cornflour at the very end.
Main ingredients
Vegetables, Lamb, Stock/Broth, Garlic, Herbs
Recipe Type
Dinner, Batch Cooking
For more great weaning/feeding advice, family-friendly meals and information about how to feed your family healthy, home-cooked food, visit
www.mummycooks.ie
.
You can also find more
recipes, great healthy snacks,
and advice on how to feed your family healthy home-made food at
www.mummycooks.ie.
Other recipes you may like
Trending and Sponsored