Noel's barm brack (báirín breac)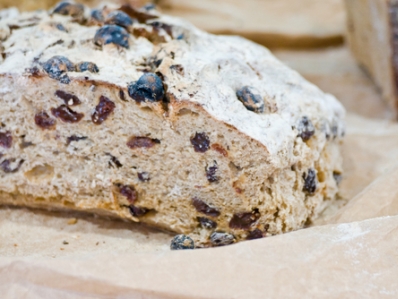 It is an Irish custom to bake charms into the bread dough to tell fortunes - good and bad - for the year ahead. While the charms vary from house to house, and region to region, the two classics are the coin and the ring. The coin predicts good fortune and wealth, while the ring means that marriage is imminent! Also popular are a small stick indicating a bad or violent marriage, a piece of cloth which predicts poverty and a pea or thimble, foretelling that the finder will not marry.
In a large glass bowl, soak the dried fruit in the tea overnight
The next day, preheat the oven to 205°C. Mix the yeast, warmed milk and two teaspoons of sugar together in a small bowl and set aside for 5-10 minutes to allow the yeast to activate.
In a seperate small bowl, beat the egg.
In a large mixing bowl, sift together the flour, sugar and spices. Make a well in the center of the dry mixture, and add the yeast mixture, beaten egg, butter and salt. Stir with a wooden spoon to mix the ingredients and bring the dough together. Add a pinch more flour if the dough is too wet, or a splash of more milk if it's too dry.
Turn the dough out onto a floured work surface and knead for 5-10 minutes,or until the dough is smooth but still sticky.
Drain the dried fruit, and knead a little of it at a time into the dough until all the fruit has been incorporated.
Place the dough into a large, lightly buttered bowl, and cover it with a clean towel or plastic wrap and set it in a warm corner for one to two hours, or until the dough has doubled in size.
Turn the dough out onto a lightly floured work surface and punch it down to deflate it, then knead it lightly for two to three minutes. Form the dough into a ball and place it in a buttered 7-8 inch cake pan. Cover it with a clean towl or plastic, and let rise again for half an hour, or until it doubles in size.
Bake for 35-45 minutes, or until the top is brown and it sounds hollow when lightly tapped.
Preparation Time
70 minutes
Cooking Time
45 minutes
Main ingredients
Flour, Fruit
Recipe Type
Budget, Cakes & Baking, Cake Stall
Cuisine
Irish
Level of Difficulty
Medium
Other recipes you may like
Trending and Sponsored