Orange, Pistachio and Almond Cake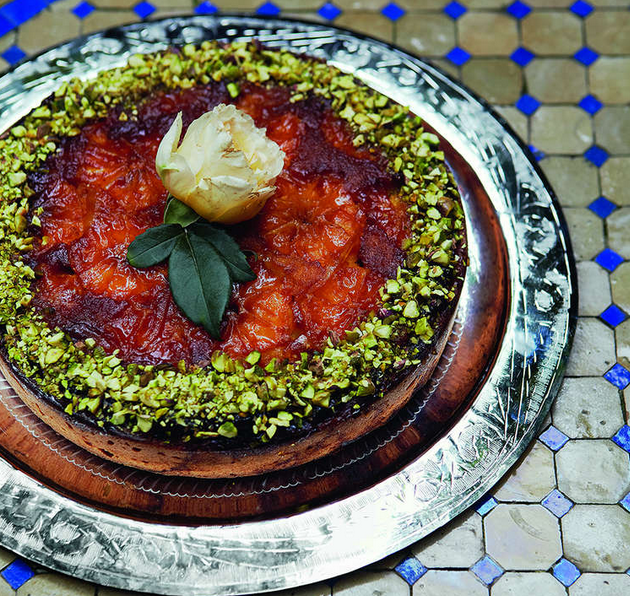 This gluten-free cake would delight at any baby shower or afternoon tea.
3 oranges
2 tbsp water
100g granulated sugar
60g unsalted butter
200g unsalted butter, at room temperature
200g caster sugar
3 large eggs, preferably fee-range or organic
Juice of three oranges
2 tsp orange blossom essence
100g gluten-free plain flour
1 tsp gluten-free baking powder
2 tsp ground cardamom
½ tsp salt
160g fine instant polenta
200g ground almonds
2 tbsp good-quality marmalade
1 tbsp water
40g chopped, unsalted pistachios
Grease and line a 23cm baking tin, then place this inside a larger tin or tray to protect your oven from any drips. Preheat the oven to 180°C or gas mark 4.
First make the caramel sauce. Finely zest the oranges ad reserve for later. Using a serrated knife, carefully slice off the top and bottom of each orange and then the sides, following the shape of the orange. Slice the peeled orange horizontally into roughly 0.5 cm thick pieces, depending on the size of the orange.
In a heavy-based pan off the heat, place the water and sugar for the caramel and mix a little until you have a paste-like consistency. Transfer to a medium to high heat, but do not stir, as this will incorporate air into the caramel and cause it to crystallize.
Keep heating the sugar until it is light brown in colour. Remove from the heat and carefully add the butter, a little at a time. Be very careful to hold the pan away from you, as it can easily spatter.
Once all the butter is incorporated, quickly pour the caramel into the prepared tin and leave to cool slightly. Then lay the orange slices neatly on top.
Now make the sponge. Cream the butter and sugar together, then add the eggs, one by one, followed by the orange juice, orange blossom essence and reserved zest. Mix until well combined. Sift the flour, baking powder, cardamom and salt together in a bowl, then add to the batter along with the polenta and ground almonds. Pour this batter into the tin on top of the oranges and caramel and spread evenly.
Bake in the oven for about 40 minutes, until springy to touch or when an inserted skewer comes out clean. Be careful not to overbake. Remove from the oven and leave to cool in the tin for about 5 minutes, then turn upside down onto a cake board or plate so that th orange slices are now on the top. Remove the layer of baking paper at this point. Allow to cool fully.
Once cool, melt the marmalade and water together in a small pan and brush over the surface of the cake to give it a shiny appearance. Top with the chopped pistachios.
Preparation Time
30 minutes
Cooking Time
50 minutes
Main ingredients
Dairy, Flour, Fruit, Eggs, Sugar
Recipe Type
Cakes & Baking, Entertaining
Special Info
Gluten free
Level of Difficulty
Easy
Other recipes you may like
Trending and Sponsored