Paul Flynn's baked sweet potato with feta cheese, spinach and chilli pumpkin seeds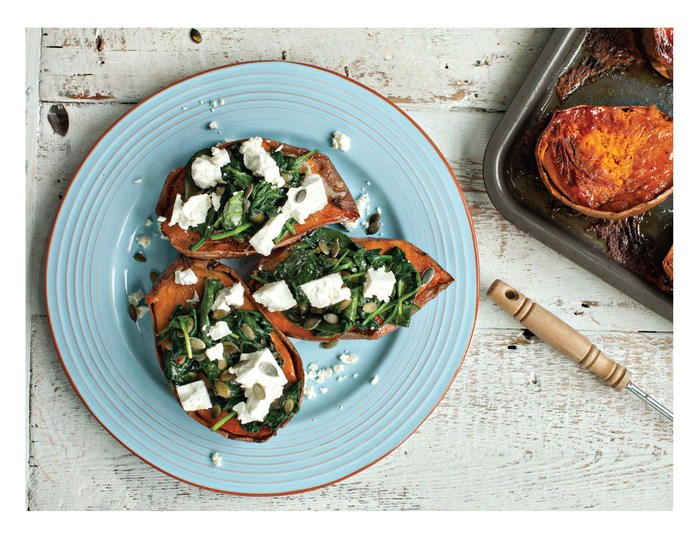 A new funky take on the humble baked potato, brilliant on its own or with some chicken or lamb chops.
Salt and pepper
2 sweet potatoes, scrubbed and halved lengthways
1 packet of baby leaf spinach (250g), washed
2 cloves of garlic (10g), crushed
1 packet of Feta cheese
1/2 packet of pumpkin seeds (85g)
4 tbsp of olive oil (50ml)
A large knob of butter (60g)
A pinch of hot chilli powder
Preheat the oven to 180 degrees.
Drizzle the olive oil onto a roasting tray, season the oil and place the sweet potatoes cut side down on the oil. Cover with foil and put in the oven for 1 hour - 1 hour and 15 mins, depending on the size of the potato, until soft.
When the potatoes are cooked, melt the butter over a medium heat and add the garlic and chilli powder, followed by the pumpkin seeds. Cook the seeds gently for 5-6 minutes.
Add the spinach and wilt for 2 minutes. Season and serve on top of the sweet potato, then crumble the feta cheese on top.
Serves
4
Preparation Time
90 minutes
Other recipes you may like
Trending and Sponsored