Paul Flynn's hot and garlicky Greek meatball salad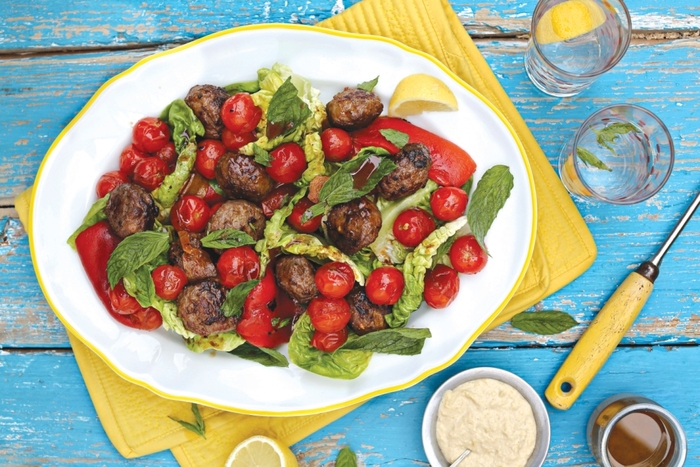 I love houmous and I look for any excuse to pair it with anything. So here I'm taking the meatballs out of the usual tomato sauce and serving them in a lighter way as a salad, but with roasted cherry tomatoes in a hot and spicy garlic dressing. To bulk it up a little you could serve this with some little roast potatoes if you like.
1 packet Irish beef meatballs.
2 tubs of houmous (2x200g)
1 punnet of cherry tomatoes, stalks removed (250g)
3 roasted red peppers (270g), torn apart a little.
1 clove of solo garlic (18g), peeled and finely sliced.
1 packet of little gem lettuce (220g), trimmed and washed.
A tbsp of olive oil.
A splash of Rosso vinegar.
A little fresh mint if available
Oregano.
Salt and pepper.
A pinch of hot chilli powder
Heat up the olive oil in a large frying pan and add the meatballs.
Cook for 10 minutes over a medium heat. Meanwhile divide your houmous between 4 plates and top with the little gems and the torn peppers.
When the meatballs are evenly coloured add the garlic, tomatoes, chilli powder, salt and pepper (and the marjoram if you have no mint).
After 2 minutes or so the garlic will have coloured and the tomatoes will have started to pop. Splash over the Rosso vinegar, then divide everything between your plates along with a scattering of mint leaves, and serve.
Serves
4
Preparation Time
25 minutes
Other recipes you may like
Trending and Sponsored