Poppy seed cake with butter cream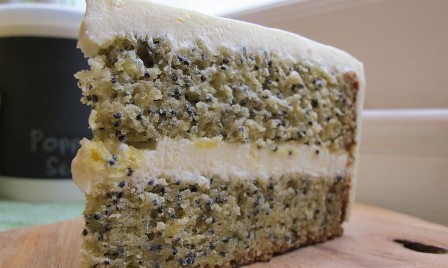 Ingredients
For the cake:
150g butter, at room temperature
100g caster sugar
3 beaten eggs
1 tsp baking powder
100 g plain flour
75g poppy seeds
For buttercream icing:
75g butter - softened
1/2 tsp vanilla extract
125g icing sugar
Preheat the oven to 170°C 325°F Gas 3 and lightly grease a 20cm cake tin and line the base with greaseproof paper.
To make the cake:
In a large mixing bowl, cream the butter until nice and soft.
Add the sugar and beat until the mixture is creamy and fluffy.
Gradually add the beaten egg, mixing well between each addition.
Sift the baking powder and flour into the mixing bowl and mix well.
Next add the poppy seeds and stir until combined.
Spoon the mixture into the cake tin, making a slight hollow in the centre of the cake with the back a spatula or the back of a spoon.
Bake in the oven for 25-30 minutes. You will know that the cake is cooked when a skewer (or piece of spaghetti) inserted into the middle of the cake comes out clean.
Remove the cake from the oven and allow it to stand for 10 minutes before removing it from the tin and transferring it to a wire rack to cool.
To make the icing:
Put the butter into a large mixing bowl and beat it until it is very pale and making a plopping sound – this will take 5 minutes on a high speed if using an electric whisk. We promise it is worth the extra time to make a light, creamy buttercream icing.
Next add the vanilla extract and icing sugar and beat for another 5 minutes.
To assemble:
When the cake is completely cool, split it in half using a long-bladed serrated knife. Taking one layer of cake, place it on a serving plate with the flat part facing upwards. Spread the top with three tablespoons of the buttercream. Place the second half of the cake on top and spread the remaining buttercream icing over the top and sides with a knife.
Preparation Time
20 minutes
Cooking Time
25 minutes
Main ingredients
Dairy, Flour, Eggs
Recipe Type
Cakes & Baking, Dessert, Entertaining, Cake Stall
Level of Difficulty
Easy
If you didn't want to cut the cake into two layers, you can keep it whole using the icing over the top and sides.
Other recipes you may like
Trending and Sponsored