Raspberry and apple meringue pie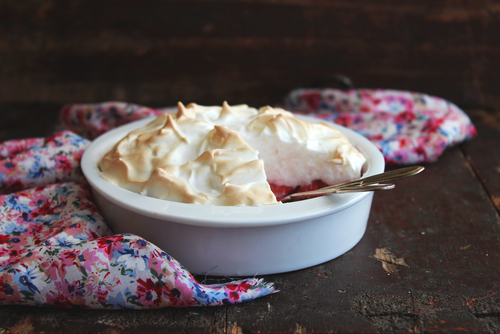 This delicious meringue is great for summer days and you can use any fruit you want.
1 tbsp butter
1 sheet of ready rolled shortcrust pastry
240g apples, sliced
300g raspberries
165g brown sugar
1 tbsp lemon zest
1/4 tsp cinnamon
3 tbsp tapioca
1/4 tsp white vinegar
100g caster sugar
1 tbsp cornflour
80ml cold water
4 large eggs, yolk removed
1 tsp vanilla essence
Preheat the oven to 180°C or gas mark 4. Lightly grease an ovenproof dish with butter and place the pastry sheet at the bottom.
Fill with pie weights or dry beans if you don't have pie weights, pierce the bottom with a fork and place in the oven for 35 minutes until it is a golden colour. Remove and set aside.
While the pastry is cooking you can make the filling. In a large saucepan over a medium heat combine the apples, raspberries, sugar, lemon and cinnamon together. Add in the tapioca and increase the temperature slightly. Leave to cook for about 10 minutes while you make the meringue topping. If it takes longer to make the topping, reduce the heat under the filling mix slightly but don't turn it off, your filling needs to stay hot.
In a medium saucepan combine the cornflour and water together until the flour is dissolved. Continue to heat until it forms into a gel.
Whisk the egg whites together in a food processor and add in the white vinegar. Spoon in the vanilla essence and keep whisking until it has a frothy appearance.
Add the caster sugar very slowly and beat again. Pour in your cornflour, again very slowly, mix and beat until it forms a stiff peak.
Pour the filling into the pastry shell and spread it out o it fills the whole pie crust. Spread the meringue filling on top starting from the outside in.
Increase the oven temperature to 190°C or gas mark 5 and place your pie inside for about 20 minutes. Remove from oven and allow to cool before serving
Preparation Time
30 minutes
Cooking Time
60 minutes
Main ingredients
Dairy, Fruit, Sugar
Recipe Type
Cakes & Baking, Dessert
Level of Difficulty
Easy
Other recipes you may like
Trending and Sponsored