Seared scallops, butternut squash risotto, toasted almonds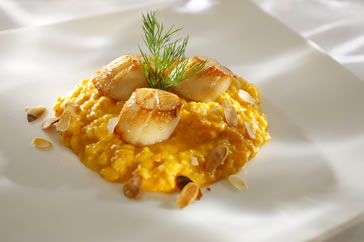 1 butternut squash
1 clove garlic, peeled
A few sprigs of fresh thyme
300g Arborio or Carnaroli risotto rice
800ml hot vegetable or chicken stock
Half a medium sized onion, chopped
40g Avonmore butter
Half a glass of white wine
100ml Avonmore Fresh Cream
Freshly grated parmesan
8 medium scallops, removed from shell & cleaned
2 tbsp flaked almonds
Sea salt & freshly ground black pepper
Remove the skin and seeds from the squash. Rub with the garlic clove and then cut the squash into 2" segments.
Place on a roasting tray and sprinkle with some fresh thyme.
Cover with tin foil, then transfer to a pre heated oven and roast for approx 45 minutes or until the squash is completely soft.
Remove from the oven, season with salt & pepper and process in a food processor or mash with a fork until smooth. Toast the flaked almonds under the grill and leave to cool.
In a heavy based saucepan, sauté the onion in butter without colour until soft. Add the rice and stir well until coated with the butter. Add the wine and stir until it has evaporated. Add a ladleful of the hot stock and simmer. As the stock gets absorbed add more stock when necessary. Continue in this way for about 15 minutes until the rice is soft and tender but the grains are still firm in the centre.
Pour in the Avonmore cream and the squash puree. Stir until hot, then, add freshly grated parmesan & season to taste with sea salt and freshly ground black pepper.
Season the scallops and pan fry in a hot frying pan until golden on each side. Arrange the risotto onto warmed serving bowls, place the scallops on top and garnish with the toasted flaked almonds.
Main ingredients
Vegetables
Recipe Type
Dinner
Other recipes you may like
Trending and Sponsored