Simnel cakes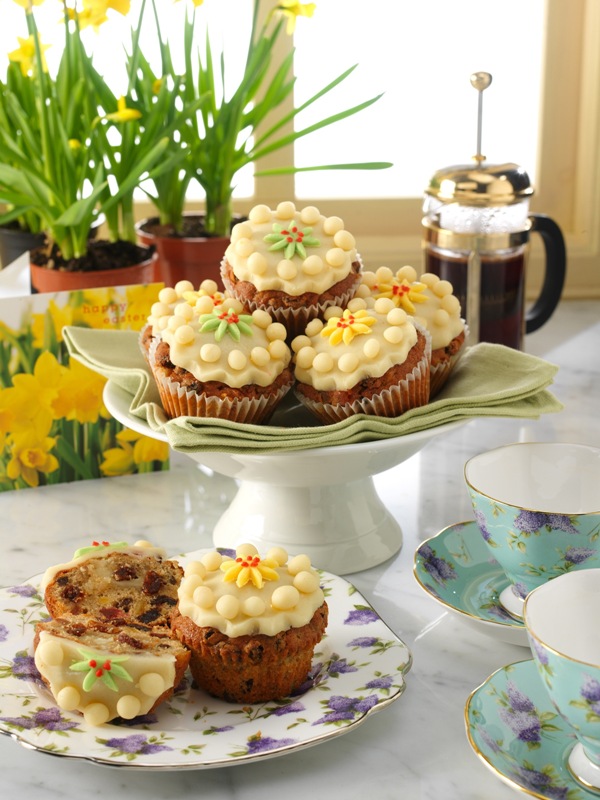 150g (5oz) butter
150g (5oz) light brown sugar
4 medium eggs, beaten
200g (7oz) plain flour
1 rounded tsp Dr. Oetker baking powder
1 tsp mixed spice
Grated zest of 1 lemon
350g (12oz) mixed dried fruit
50g (2oz) glace cherries, chopped
50g (2oz) chopped mixed peel
1 tbsp rum or brandy (optional)
2 tbsp Dr. Oetker Apricot Glaze
500g Dr. Oetker Natural Marzipan
Dr. Oetker Muffin Cases
To Decorate
Dr. Oetker Ready to Roll Icing, red, green or yellow
Dr. Oetker Writing Icing Tubes
Preheat oven to 190°C/170°C fan/375°F/Gas Mark 5. Line a muffin pan with 12 Dr. Oetker Muffin Cases.
In a large bowl, cream butter and sugar together by hand or with a mixer until smooth and fluffy. Gradually beat in the eggs.
Sieve the flour with the baking powder and mixed spice then gently stir into the creamed mixture along with lemon zest until fully combined. Finally add the fruit and rum or brandy, and fold together.
Spoon half the mixture into the paper cases, grate 175g (6oz) of the marzipan on the coarse side of a grater and divide between the cases, then top with the remaining cake mixture. Bake for 25 minutes.
Meanwhile roll out the rest of the marzipan to a thickness of a £1 coin and cut out 12 circles using a 7.5cm (3") plain cookie cutter (the same diameter as the muffin cases). With the scraps of marzipan roll into lots of small balls about the size of a pea.
Heat the apricot jam in a small saucepan or warm in the microwave for 40 seconds until melted.
Remove the cupcakes from the oven and brush the tops with the apricot glaze. Place a circle of marzipan on each then crimp the edges. Arrange 11 marzipan balls around the edge of each cupcake (11 is the traditional number used on Simnel cakes, representing the apostles).
Lightly dab the balls with apricot glaze. Return to the oven for 5 minutes until the marzipan is golden, then remove and cool.
To make the flowers: roll out the icing and using a dainty flower cutter, make small flowers. Dab the underside with apricot glaze (a cotton bud is perfect for this) and attach to the top.
Add small dots in the centre of each flower with a writing icing tube.
This recipe is brought to you by Dr. Oetker
Serves
Makes 12
Main ingredients
Flour, Fruit, Sugar
Recipe Type
Party Food, Cakes & Baking, Entertaining, Cupcakes
Level of Difficulty
Medium
Small cutters can be bought from a specialist cake shop or an online supplier.
Other recipes you may like
Trending and Sponsored