Simple Christmas cake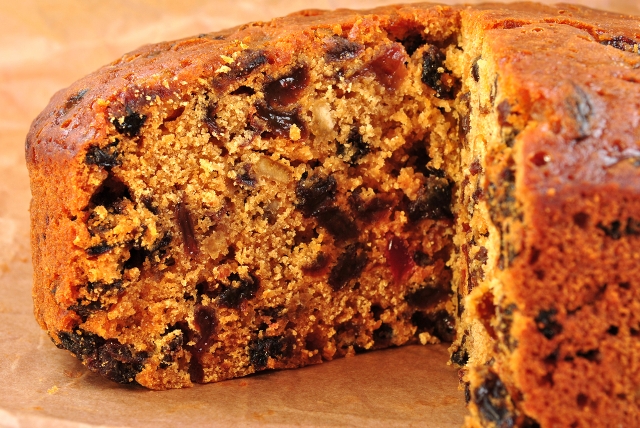 There is no reason not to bake a Christmas cake with this foolproof recipe. The only tricky part will be the icing.....no rules there.
230g butter
230g brown sugar
4 large eggs
75ml milk
75ml dark rum
340g self raising flour
1 tsp mixed spice
100g ground almonds
230g currants
230g sultanas
230g raisins
100g glace cherries – chopped
60g mixed peel
60g mixed chopped nuts
Preheat oven to 120°C/220°F/Gas ½.
Grease and line an 8" round or square tin with newspaper and then an inner layer of greaseproof paper. This will prevent the edges burning.
Mix the eggs, milk and rum together in a jug and set aside.
Mix the flour, mixed spice and ground almonds together and set aside.
Mix the currants, raisins, sultanas, cherries, mixed peel and chopped nuts together and set aside.
Beat the sugar and butter together until fluffy.
Next add a few spoons of the flour mixture and then a little liquid mixture and mix. Alternate between adding a little of both until all is combined.
Mix in the fruits.
Spoon into the prepared tin and bake for 4 hours 30 minutes.
Remove from the oven and allow to cool fully in the tin.
When cool, remove from the tin and prick with a skewer – then drizzle 20ml of rum over the top of the cake.
Wrap the cake in greaseproof paper and then a layer of tin foil. Leave for one week then repeat the drizzling of 20ml of rum again and rewrap.
To decorate:
If you decide to ice the cake, brush it with warmed apricot jam or a clear spirit like vodka.
Roll out shop bought marzipan using icing sugar on the surface. If you need two packets of marzipan, knead them together first before you roll.
Brush the cake again with jam or clear spirit.
Roll out premade fondant icing also using icing sugar and place on top of the marzipan.
Decorate with a ribbon or Christmas cake decorations.
Preparation Time
10 minutes
Cooking Time
270 minutes
Main ingredients
Dairy, Flour, Eggs
Recipe Type
Cakes & Baking
Level of Difficulty
Easy
Other recipes you may like
Trending and Sponsored