Turkey Rolls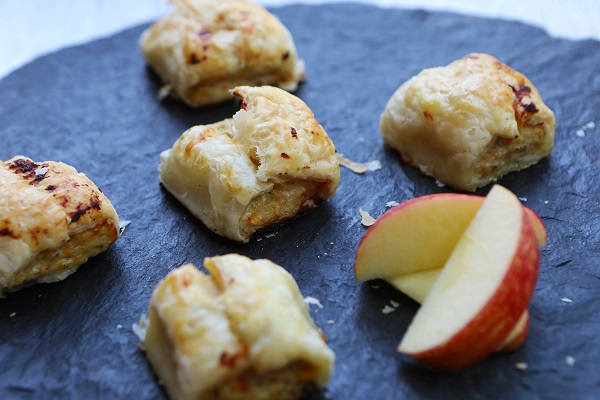 Are you looking for a tasty alternative to traditional sausage rolls? Then try out these turkey sausage rolls; everyone, including your weaning baby will love the subtle sweetness from the apples!
They make a great finger food for the whole family and can be baked from fresh or frozen, for a quick and tasty treat.
300g minced turkey
1 onion, finely diced
1 carrot, peeled and grated
3 heaped tbsp. applesauce (2 small apples)
2 tbsp. flour or breadcrumbs
1 tsp. fresh or dried thyme
1 pack puff pastry
1 small egg, beaten
Preheat the oven to 180C. Line a baking tray with grease-proof paper. Remove the pastry from the freezer and set aside to soften.
Meanwhile, prepare the applesauce. Peel, core and chop 2 small apples and add to a pot with 100ml water. Bring to the boil, reduce heat, and simmer for 5 minutes.
Once softened, remove from heat. Blitz until smooth, about 30 seconds, adding more water as required. Set aside.
Place all ingredients except the pastry and egg into a food processor. Blend on high speed for 20 seconds, until combined.
Prepare the pastry by rolling it out. Cut length-ways into two rectangular strips.
Using a spatula, scoop out half of the minced mixture. Arrange into a sausage shape in the middle of one of the pastry strips. Make sure it is not too large to ensure it will cook through.
Roll the pastry around the meat to form a sausage roll, sealing the edges using a fork.
Repeat with the other half of the pastry. Cut each roll into 8 mini rolls. If planning on freezing, do so now.
Brush with the beaten egg and bake for 25 minutes until golden, crispy and cooked through.
Serves
4 adults
Main ingredients
Fruit, Eggs, Turkey, Vegetables, Bread, Herbs, Pastry
Recipe Type
Dinner, Lunch Box, Snacks
Storage and serving:
This recipe is perfect for your weaning baby from 6 months. Offer 1-2 rolls as a finger food with some
Easy Tomato Sauce
for dipping, for the perfect family-friendly, baby-led weaning treat!
If making ahead of time, store the rolls in a large
16oz
or
24oz pot
from the
Large Mixed Set
, and freeze for up to 3 months. The tomato sauce is perfect for freezing, too! Label and store in portions using
8oz pots
for a quick and easy dipping sauce any day of the week.
Other recipes you may like
Trending and Sponsored