Veg Samosas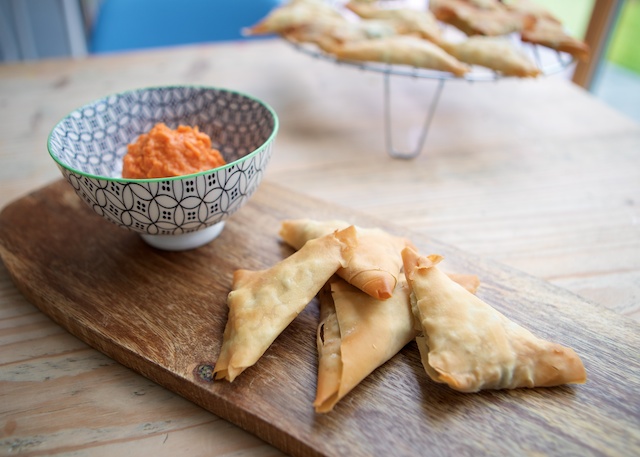 Try out some homemade crispy Veg Samosas with this great family-friendly recipe that everyone is sure to love. Our step-by-step recipe means they couldn't be easier!
A delicious way of getting some extra veggies into the kids. Get them into the kitchen to help you make them - a great after school activity!
1/2 packet of just-roll filo pastry
3-4 pre-cooked baby potatoes, diced
4oz sweet corn
4oz peas
1 small onion, finely diced
1 tbsp garam masala
1 tbsp olive oil
Pre-heat the oven to 200 degrees.
Heat a large pan with some olive oil, add the onions and cook until soft, stir in the garam masala and the rest of the vegetables, and cook for a further 2-3 minutes. Remove from the heat.
Cut the pastry into long strips and lay out on a board, with some cling film or a little dusting flour to stop them from sticking together.
Place a small amount of the vegetables in the top right-hand corner.
Fold down the top left portion of the pastry over the vegetables.
Fold the bottom section up, flip over the parcel, and fold the remaining pastry onto itself to seal it up. Use a small amount of water to secure the opening.
Repeat until you have used up all of your pasty and mixture.
Brush with a small amount of olive oil and bake in the oven for 15-20 minutes until golden and crispy.
Main ingredients
Vegetables, Pastry
Recipe Type
Dinner
For more great snack ideas, family-friendly meals and information about how to feed your family healthy, home-cooked meals, visit
www.mummycooks.ie
.
Other recipes you may like
Trending and Sponsored