Vegetable nuggets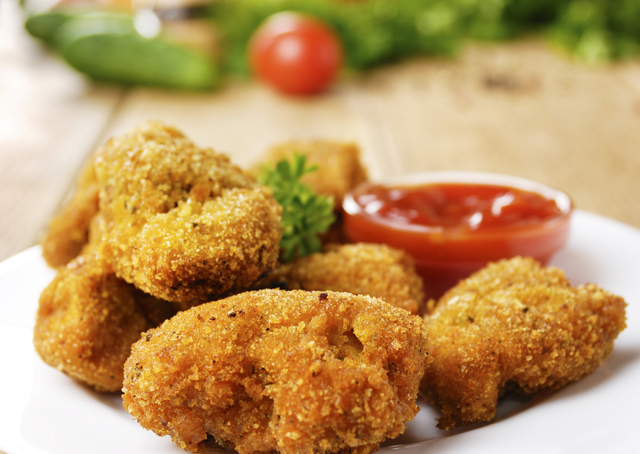 These vegetable nuggets are an amazing replacement for the usual fair and offer Mum's a guilt free meal for the kids. They are easy to make and extremely delicious.
2 large potatoes, peeled, chopped
1 tsp olive oil
½ small onion, finely chopped
1 medium courgette, grated
1 medium carrot, peeled, grated
100g low-fat grated cheese
1 egg
1 tbsp low-fat milk
3 slices bread, for breadcrumbs
Olive oil cooking spray
Sweet chilli sauce, to serve
Preheat the oven to 220°C / 425°F / Gas mark 7.
Line a baking tray with greaseproof paper and set aside.
Cook the potato in a saucepan of boiling water for 10 minutes or until tender. Drain, mash and set aside to cool.
Meanwhile, heat the oil in a frying pan over medium heat. Add the onion and cook stirring, for 2 to 3 minutes or until softened.
Once you have grated the courgette, use your hands to squeeze the excess liquid over a basin.
Combine the courgette, carrot, cheese and onion in a bowl. Add the mashed potato. Season with salt and pepper and stir through.
Whisk the egg and milk together in a bowl. Add 1 tablespoon of the egg mixture to the potato mixture. Stir well.
Make the breadcrumbs by using 2-3 slices of sliced pan and blitz them up in the food processor until they look like breadcrumbs.
Place the breadcrumbs on a large flat plate. Roll level tablespoons of the vegetable mixture into 30 nugget shapes. Dip 1 nugget at a time into the remaining egg mixture, shaking off the excess. Coat in the breadcrumbs and place on the prepared tray.
Let set in the refrigerator for 30 minutes. This will prevent them breaking up when cooking.
Spray the nuggets lightly with oil. Bake for 15 to 20 minutes or until golden.
Serve with sweet chili sauce.
Preparation Time
15 minutes
Cooking Time
20 minutes
Main ingredients
Vegetables
Recipe Type
Healthy, Kids Food, Lunch Box, Snacks
Level of Difficulty
Easy
Other recipes you may like
Trending and Sponsored