Vintage style rose and quilt-iced cupcakes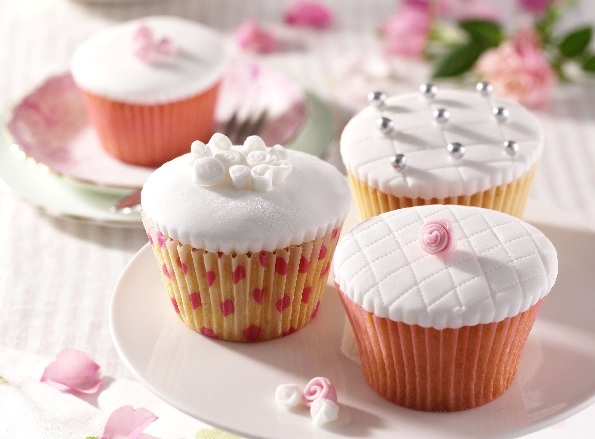 15 Dr. Oetker Cupcake Cases
225g (8oz) baking margarine
225g (8oz) caster sugar
4 medium eggs, beaten
5ml (1 tsp) Dr. Oetker Natural Vanilla Extract
225g (8oz) plain flour
3 sachets (3 tsp) Dr. Oetker Baking Powder
To Decorate:
Icing sugar to dust
454g (16oz) Dr. Oetker White Regal-Ice Ready to Roll Icing
30ml (2 tbsp) Dr. Oetker Apricot Glaze or honey
Dr. Oetker Bright Red Gel Food Colour (optional)
Dr. Oetker White Designer Icing
Dr. Oetker Soft Silver Pearls
Preheat the oven to 190°C (170°C fan assisted oven, 375°F, gas mark 5). Line a cupcake tin with the Cupcake Cases. In a mixing bowl, beat the margarine with the sugar until pale and creamy.
Gradually whisk in the eggs and the Natural Vanilla Extract then sift the flour and Baking Powder on top. Carefully mix the ingredients together.
Spoon the mixture into the Cupcake Cases and bake for 22-24 minutes until golden and risen to the top of the cases. Transfer to a wire rack to cool.
To decorate, lightly dust the work surface with icing sugar. Roll out the Regal-Ice Ready to Roll Icing to a thickness of 3mm (1/8th inch) and cut out fifteen, 7cm (2 ¾ inch) round discs using a crinkle edged cutter, re-rolling as necessary. Gather up the trimmings, and set aside.
Brush the top of each cupcake lightly with Apricot Glaze or honey and secure a disc of icing on top so that it completely covers the surface of each cake.
To make pink mini roses, flatten the trimmings slightly and add 1 or 2 drops of Bright Red Gel Food Colour on top. Fold the icing over the gel to enclose it and carefully knead it into the icing until the colour is evenly mixed.
To make the mini roses, dust your fingers with icing sugar to prevent sticking and roll a pea-sized amount of the reserved trimmings between your fingers to make a thin sausage shape, then flatten to make as thin as possible.
Starting at one end, roll up tightly until you reach the end. Lightly pinch together at the base and trim to allow the rose to sit straight. Place the icing on a board lined with baking parchment and leave to dry slightly for 30 minutes before decorating.
For the quilting design, use either a specialist quilting tool or a small serrated knife. Press lightly into the top of the iced cake in a criss-cross design to make a grid pattern. Use the White Designer Icing to stick Soft Silver Pearls or a pink rose to the cakes to decorate.
This recipe is brought to you by Dr. Oetker
Serves
Makes 15
Main ingredients
Flour, Sugar
Recipe Type
Party Food, Cakes & Baking, Entertaining, Cake Stall, Cupcakes
Level of Difficulty
Easy
Other recipes you may like
Trending and Sponsored