White chocolate cake pops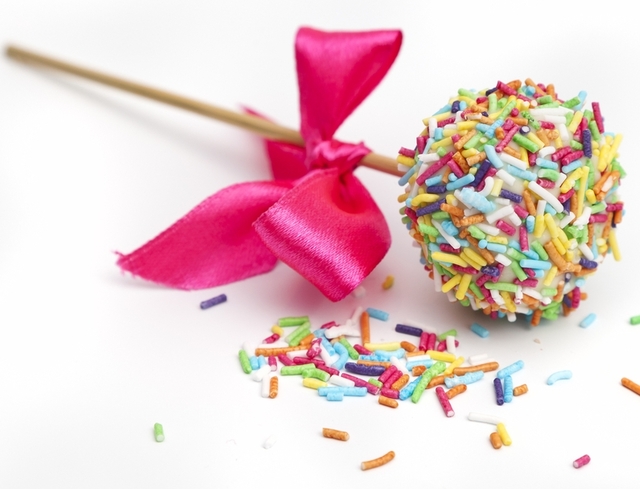 These take a little practice to get right but the result is well worth it! These are a wonderful addition to any birthday party.
120g unsalted butter, softened
150g unrefined caster sugar
1 tsp vanilla sugar
2 free range eggs
180g self raising flour
4 tbsp milk
Icing
80g unsalted butter, softened
40g cream cheese, softened
200g icing sugar, sifted
1 tsp vanilla extract
400g white chocolate buttons
Lollipop sticks
Sprinkles
styrofoam, covered in tin foil
ribbons
To make the cake:
Preheat oven to 180°C/Gas Mark 4.
Lightly grease a 25cm round cake tin or a 20cm square cake tin.
Combine the butter and sugar until the mixture is pale and fluffy, this takes about 5 minutes. Pour the vanilla extract into the creamed butter and sugar and mix.
Add the eggs, gradually ensuring to mix well between each addition. Add half the flour and then half the milk and mix. Repeat the process and add the remaining flour and milk.
Pour the mixture into the already prepared tin and bake for 35-45 minutes until golden brown. Once baked, leave the cake to cool on a wire rack. Meanwhile, make your icing.
Mix the butter and cream cheese together.
Add a little sugar at a time, then continue to mix until light and fluffy. Finally, add in the vanilla and mix well.
Refrigerate for 30 minutes before using.
Crumble the cake well in a mixing bowl. Do this my hand the crumb will be finer.
Once the cake has been crumbled finely, take your icing, a heaped tablespoon at a time, and begin combining it with the crumbs. You may not need all of the icing, depending on how moist your cake is, so just use a little at a time. Keep mixing until you have a thick texture. To test if it's ready, roll a little in your palm, it shouldn't crumbly and it should be moldable. If you add too much icing the mixture will be soggy, sticky and heavy and the cake pops won't stay on the sticks.
Cover the mixture in cling film and transfer to the refrigerator for at least one hour. The mixture should be firm but not too hard when it's ready to work with.
Break off little chunks of the mixture and roll into a ball with your palms and Place each ball on a tray lined with greaseproof paper. Transfer to the refrigerator for 15-20 minutes until they are firm.
Melt the white chocolate buttons in a microwave safe bowl and stir until completely smooth. Take a lollipop stick, dip it in melted chocolate and place it into the centre of the cake ball. This will act as a glue to keep your cake pops together. Place cake pops into the styrofoam to harden and continue with the remaining cake pops.
Coat the cake pop in the delicious white chocolate. This can be a little tricky but a good tip is to place the cake pop sideways into the melted chocolate and using your other hand spoon the mixture over the rest of the pop. While the icing is still wet, dip in a shallow bowl of sprinkles and leave in the styrofoam holder to allow to dry.
Serves
48
Preparation Time
25 minutes
Cooking Time
30 minutes
Main ingredients
Dairy, Flour, Chocolate
Recipe Type
Party Food, Cakes & Baking, Kids Food, Cake Stall, Cupcakes
Special Info
Vegetarian
Level of Difficulty
Medium
You can tie a ribbon around each cake pop to make them even prettier.
Other recipes you may like
Trending and Sponsored