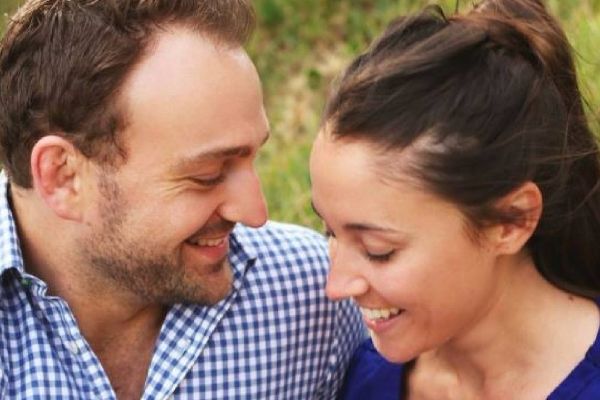 Please note: this post contains content and links to images which may cause distress.
The incredibly sad story of Jacqueline Hoy and her husband Jonnie has touched all our hearts.
Jacqueline and her family endured a terrible tragedy when the twins she was carrying were stillborn at 37 weeks, just two days before she was due to be induced.
Although there were some complications with her pregnancy, Jacqueline's twin boys had been developing normally and she had seen them moving on a scan just days before they died. Both boys had stable heartbeats, and all seemed well.
One of Jacqueline's babies, Henry, died in the womb; and although doctors performed an emergency C-section to save her second baby, William, sadly he also died as the boys shared a placenta.
Jacqueline has since spoken about how she has coped with such a terrible loss.
"The week that followed, all I had was questions, too much pain, and the most unbelievable broken heart. I remember that somebody once said to me, 'You won't know love until you have a child.' I don't disagree with that statement," she wrote in a post for Whimn.
"But I can assure you, you won't know heartbreak until you lose a child."
Jacqueline found every day that passed to be difficult - particularly when her milk came in and her boys were not there to benefit from it.
"It had to run its natural pre-birth course: of the milk coming in, and recovery from a major surgery. Only I wasn't holding my two precious rewards at the same time," she said.
It's now three months on, and everywhere she goes Jacqueline is faced with reminders of what life would be like if the twins had lived.
"The constant reminders of the hopes we had for our family are often really difficult as well, and seeing little bubbas when out and about pulls at the heart strings like you wouldn't believe," she said.
"Some days my husband is my rock, and other days I am his rock; but we have found that we need to be really open and honest with each other about how we are feeling, otherwise the partnership doesn't work."
But despite their anguish, Jacqueline and her husband decided they want to share their story to help other families. They have become ambassadors for the Stillbirth Foundation Australia, and they want to raise awareness about stillbirth.
"Six babies every day are stillborn in Australia, that's one every four hours," Jacqueline explained. "We are hoping that by coming forward, other families will feel confident in doing the same and this can help to create the awareness needed."
They are now raising funds for the foundation and will donate the money for research into stillbirth.
"Not having a reason why our babies aren't here with us breaks my heart every day," Jacqueline said. "If more research is done, maybe we could then be given reasons why, and they will be able to find out strategies to prevent it from happening to others."