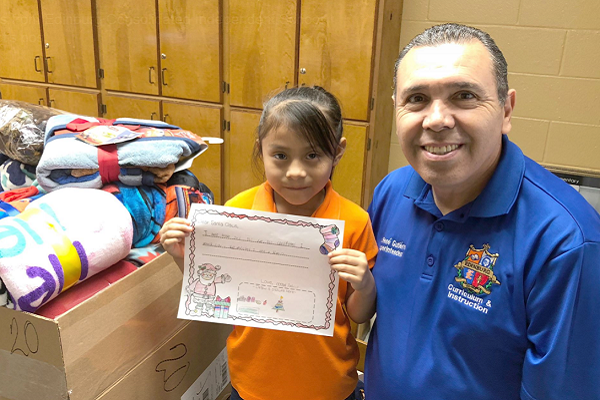 Picture via Facebook
Kids will be asking for all sorts of things this Christmas - the newest video game, a stuffed animal, or any number of doodads.
We hope that children never feel they have to ask Santa for necessities like warmth or food, but unfortunately, that isn't always the case.
Crystal Pacheco, a first grader at Monte Cristo Elementary School in Texas, wrote a touching letter to Santa that is also absolutely heartbreaking.
"Dear Santa," the letter reads, "I have been good this day. This Christmas I would like a ball and food. I need a blanket."
She asked for the ball so she could share it and play with her brothers.
Her teacher, Ruth Espiricueta, shared the photo on her Facebook and said how it 'breaks her heart' when students have to ask for such basic items, instead of toys, at Christmastime.
We feel the same way.
Crystal's heartfelt plea is, sadly, not unique in a school district where many of the 30,000 pupils live in poverty, CNN reports.
Thankfully, though, people touched by Crystal's letter decided to do something about this dispiriting situation.
After the school's principal and Ruth posted Crystal's Santa letter on social media, the school found themselves overwhelmed by an outpouring of generous donations.
Over 600 blankets were donated, according to the Edinburg Consolidated Independent School District, which Monte Cristo Elementary School belongs to.
The school resolved to raise 724 blankets, one for every student. By now they have about 900 blankets, according to CNN. Christmas really has come early!
It's inspiring to see people embracing the season of giving. Every child deserves to be cosy and well-fed at during the holidays - and all year round.
We hope Crystal and her family have a warm, happy Christmas.