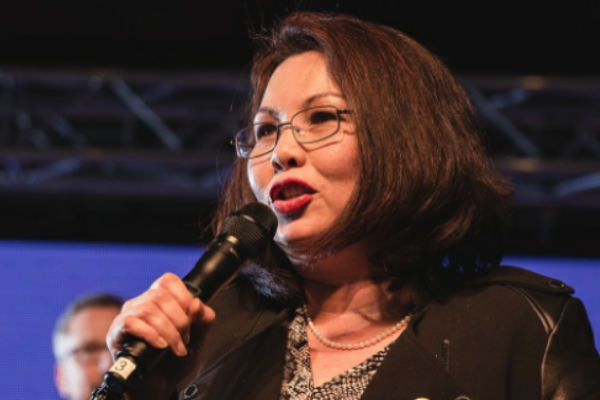 US senator Tammy Duckworth is breaking records with her pregnancy. The politician and Iraq war veteran is set to be the first senator in the US Senate to give birth while in office, the BBC reports.
Her little one is due to arrive in April, shortly after the expecting mum turns 50. She gave birth to her and her husband's first child, Abigail, in 2014.
Not only that, but the veteran is the first disabled woman ever elected to Congress. Tammy lost both of her legs during her service as a US army helicopter pilot.
The Democrat is also the first member of Congress born in Thailand, with her father being a US war veteran and her mother being of Chinese descent. So she's literally been breaking records since birth!
Tammy truly is inspiring. The 49-year-old shared her exciting news via Facebook, with a cute picture of three ducks and a little duckling.
How cute!
Tammy spoke to the Chicago Tribune about her pregnancy, saying that it's 'about damn time' that a female senator gave birth while in office. Could she be any cooler?
"I can't believe it took until 2018. It says something about the inequality of representation that exists in our country," the senator said.
"Men have been having children while they've been in office," she astutely noted.
"I hope if anything comes out of the Women's March, it's that we get more and more women running for office. It would be good to have some company here."
Here, here! Tammy does have some good company in the US House of Representatives, where nine women have given birth while serving in office.
As far as her pregnancy goes, the expectant mother laughingly shared that she finds the term geriatric mother 'terrible'.
"It's a terrible thing, but I'm listed as a geriatric mother. It's called a geriatric pregnancy on all of my medical charts. I don't let that bother me though. I think 50-year-old moms are the new 40-year-old moms," she joked to the Chicago Tribune.
Tammy's first daughter was conceived through IVF, the mum shared with the Chicago Sun. Because of her c-section while giving birth to Abigail, the senator had to wait a year and a half to try for another baby.
"I've had multiple IVF cycles and a miscarriage trying to conceive again, so we're very grateful," Tammy said of her good news.
And we're grateful to have inspiring women like Tammy leading the way. We wish her all the best with her pregnancy.