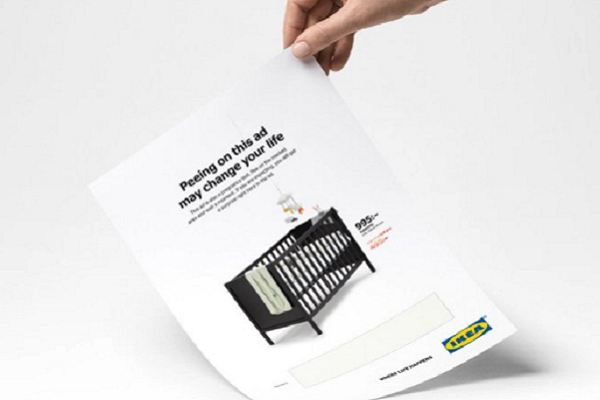 Picture via Twitter
No, we're not joking. Ikea's latest ad, created by Swedish agency Åkestam Holst, encourages expecting mums to wee on it, Adweek reports.
The magazine ad has a urine strip near the bottom of it that, when a pregnant woman pees on it, shows a discounted crib price on the next page.
Well, that's one way to find low prices!
The creative ad uses technology similar to those found in home pregnancy tests and was made in part by Mercene Labs.
The agency explained some of the science behind the campaign to Adweek: "In order to make the interactive functions of this ad work in reality, we had to make several technical advancements.
Ikea wants you to pee on this ad and if you're pregnant, it'll give you a discount on a crib https://t.co/MjuUiQSkZz pic.twitter.com/wAMXt8IdkJ

— Adweek (@Adweek) 9 January 2018
"The pregnancy test strip was used as a starting point, which relies on antibodies that bind to the pregnancy hormone hCG, resulting in a color change."
The whizzes behind the ad also noted, "Technical advancements made during the work with this campaign have the potential to improve medical diagnostics."
How exciting! Unfortunately, we won't get to pee on these ads anytime soon, since it is currently running in notable Swedish women's magazine Amelia.
People on Twitter had all sorts of reactions to the unusual campaign, from enthusiastic to sceptical.
re: Ikea pregnancy test strip ad. What poor #Ikea cashier wants to ring up a coupon ad that has been piddled on? #NoThanks

— Stephen Inoue (@Riptide360) January 10, 2018
I don't want to see @Charmin copying this idea.

— Felix Bazgan (@felixbazgan) 10 January 2018
Simply brilliant!!

— Juan Silvera (@juansilvera) 10 January 2018
What do you think of the ad, mums? Gross, or genius?