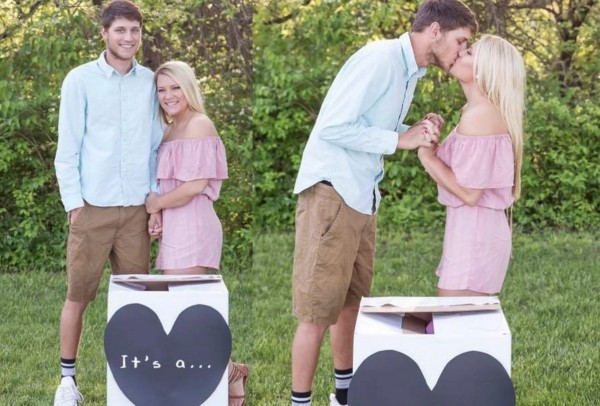 We are total suckers for a cute gender reveal, in case you haven't already guessed. The balloons and the cakes; the pinks and blues; the excited cheers and tears of joy – we could watch them all day!
We are also firmly of the opinion that the more creative the reveal is, the better – which is why that of US couple Kennedy Sartwell and Jake Terry is bringing huge smiles to our faces today.
The couple were recently getting set to welcome a new arrival into their family, and they wanted to mark the occasion in the most special way possible. So, they called on the genius behind Infinite Smiles Photography – Kennedy's mother, Cristy Sartwell - for a helping hand.
The couple put their heads together with Cristy, and came up with a genius idea for a photo shoot. The images were captured on a gorgeous sunny day, then shared to Cristy's official Facebook page – where they have since gone viral!
So, what makes this photo shoot so special? On the surface, it looks just like any other sweet gender reveal. Kennedy and Jake are seen standing before a white cardboard box, with a black heart on the front emblazoned with the words, 'It's a…', in white.
The next shot captures the couple's loving kiss before the box flaps are pulled back, and three pink balloons are released. But wait – there's something else inside the box. What could it be?
Skip on to the next image, and we are introduced to the most gorgeous black dog! That's right, the couple's 'little bundle of joy' is actually a puppy!
The shoot is complete with a shot of Jake cradling their new 'baby', while Kennedy formally introduces her to the world as 'Raven Michele, adopted on 4.18.17'.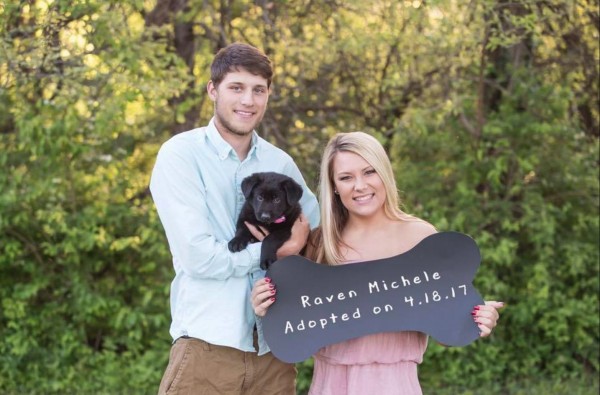 "You can congratulate me now or later. Either is fine. Meet my grand-puppy," wrote a delighted Cristy, in the post.
"Oh, and she has her own INSTA! Go follow her page, mylittleraven17, to see shots from her 'newborn session'!'
We absolutely adore this gorgeous photo shoot! In a time when our newsfeeds are filled with such sad news, it's uplifting to see a beautiful little puppy brightening a family's life – and being so loved in the process.